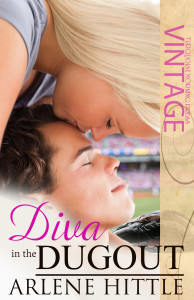 Arizona Condors shortstop Dave Reynolds faces the toughest test yet: fatherhood.
After a successful stint in drug rehab, Dave is still trying to outrun his bad boy reputation. When the team's new owners tell him to shape up or be fired at season's end, he vows to change. He doesn't count on fatherhood playing a part in his transformation.
Melinda Cline makes a rash decision: take solace in the arms of a sexy-as-sin ballplayer whose name she insists she doesn't want to know. Big mistake. Now a single mom to a four-year-old, Mel strives to live as quietly and cleanly as possible. But fate intervenes and she comes face to face with the man who insists on being included in their daughter's life. The attraction between them is still strong, but it may not survive Dave's reputation or his attempts to do the right thing.
Can the Condors' bad boy step up to the plate and knock out a home run for fatherhood? And if he does, will his daughter's mamma be ready?
Find DIVA IN THE DUGOUT at Turquoise Morning Press, Smashwords, All Romance Ebooks, Amazon and Barnes & Noble.