Posts Tagged 'Arizona'
I was flattered at the Poisoned Pen this week.
Kristan Higgins is one of my favorite romantic comedy writers, so when I heard she'd be at The Poisoned Pen in Scottsdale on a tour for her latest book, On Second Thought, I requested a day off from work so I could go down and see her.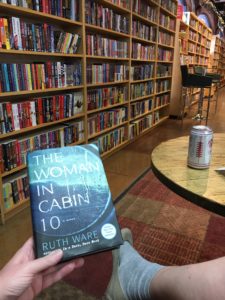 I live in Prescott now, but I used to live 90-plus minutes farther north, in Flagstaff. Consequently, I never quite remember how long it'll take me to get down to the Valley. I arrived quite early for Kristan's 2 p.m. talk, so I settled into a comfy chair at the bookstore and dove into my book club's next read (The Woman in Cabin 10). It's a page-turner, for sure.
Of course, there were other people around, and I couldn't completely lose myself in the book. Instead, I struck up a conversation with one woman who brought her dog and granddaughter to the store, not knowing there was an author coming, and decided to stay for Kristan's presentation. Another woman pulled a copy of Gone with the Wind off the shelf, which was right by my head, and said something that started a conversation about the book vs. the movie.
As we chatted about the characters on film in no way matching up with the visions in our heads, she suddenly burst out: "I know why you look familiar. You're Kristan Higgins!"
"No, but I'm here to see her," I replied with a friendly/nervous laugh. I'd never been mistaken for one of my favorite authors before, and I didn't know quite what to say.
The poor woman was embarrassed and tried to explain. "With your short hair and those glasses, you look just like her."
By then, Kristan had walked in and was standing at the counter, near the front of the shop. I pointed in her direction and said, "That's Kristan. But I'm flattered. Thank you."
"Well, I'd better get out of here before she finds out what I've done," the still-embarrassed woman said.
Despite my protests that I didn't think anyone would mind and she ought to stay for Kristan's talk, the woman left. And I was left with a warm, fuzzy feeling that someone—for a brief moment—thought I was famous.
Frankly, I don't see much of a resemblance.
Well, maybe the hair and the glasses are similar … and we both laugh a lot.
Plus, we're both a rare breed — extrovert authors. As she said during her talk, "unlike a lot of authors, I actually love meeting people." (It was something to that effect, anyway. I wasn't taking notes for an exact quote.)
She's right. So many writers are introverts who'd rather be alone with their laptops, but I thrive when I'm in crowds. Even if I'm just sitting quietly, observing, I get energy from being among people. I think that's why I do so much of my best writing at Starbucks — I can be social and recharge my batteries in the presence of fellow coffee lovers.
I've been mistaken for worse!
Now, if only I had a guy like Kristan's McIrish …