Posts Tagged 'Constance Phillips'
This week, help me welcome Constance Phillips to Writer Wednesday.
Constance is another of my Turquoise Morning Press sisters, and I visited her blog a couple of weeks ago to talk about Breaking All the Rules.
In her own words:
Constance Phillips lives in Ohio with her husband, daughter, and four canine kids where she writes contemporary romance novels and paranormal romance novels. When not writing stories of finding and rediscovering love, Constance and her husband spend the hours planning a cross-country motorcycle trip for the not-so-distant future…if they can find a sidecar big enough for the pups.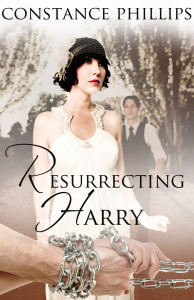 Her newest release (or re-release), Resurrecting Harry, sounds intriguing. The blurb:
In order to save the only woman he's every loved from self-destruction, Harry puts his afterlife on the line by entering a wager with purgatory's keeper, Jaden. He gives Harry a younger face and body, and a new name: Erich Welch.
If he wants to keep his new life, he must convince Bess to give up the promise she made to Harry on his death bed and call off the séance she's scheduled on the anniversary of his death.
Will Erich be able to help Bess over her loss and will any good come from resurrecting Harry?
The book's buzz is good, too. Some reviews:
" This was a very fast read for me and kept me guessing to the very end. " M. E. Wilson

"Theirs was a love story that Ms. Phillips delves into in her novel. " R. Trogne

"Great story, new idea. All in all. Worth a read." The Eternal Scribe
I can't wait to add Resurrecting Harry to my TBR queue.
Now, let's get to know Constance better with a round of "This or That."
Coke or Pepsi? Coke, Diet Coke to be specific.
Baseball or football? Honestly, if I'm going to watch sports, it's hockey. Between the two, I'd say football.
Bacon or sausage? As of late, I've been more of a bacon girl.
iPhone or Android? Android. Mac/Apple technology confuses me.
Vacation time: Beach or mountains? Hard choice, but I'm going have to go with the beach!
Night owl or early bird? It used to be the other way around, but lately I'm a early to bed, early to rise girl.
Want to find out more? You can find Constance everywhere: Website | Blog | Facebook | Twitter | Pinterest | Goodreads | Tumbler | Google + | Tsu
Resurrecting Harry is available for preorder on Kindle and Smashwords, and will be available again in most formats and in most online retailers April 30.