Posts Tagged 'Heated Competition'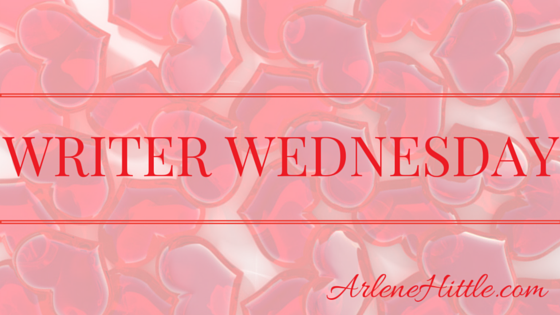 We're back!
This week's Writer Wednesday guest is 2015 Golden Heart Finalist Caroline Bradley. Caroline's "Indulge My Fantasy" finaled in the new Erotic Romance category, so you know it sizzles.
I've known Caroline — or at least her alter ego — for years. She's tenacious and has a great sense of humor, keeping our little band of writers (the LaLaLas)  merry with her stories. I'll let her bio speak for itself.
Though she seems like a mild-mannered office worker by day, Caroline Bradley writes at night, all night, every night. "Indulge My Fantasy" is her first toe dipped in the erotic waters but she enjoyed it so much, she's back for more with her newest work-in-progress, "Heated Competition." Her alter ego wrote contemporaries until Caroline decided to step in and take a walk on the wild side. She's having so much fun, she may never go back.
Caroline lives in the Philadelphia suburbs with her two teenage sons and a very boisterous cat named Mickey, after Mick from the "Rocky" movies. If you see her, chances are good her body is right there but her imagination is miles and miles away.
"Indulge My Fantasy" is either three 20k word erotic novellas or a 60k word erotic novel. Whoever wants to publish it can decide. 🙂
The blurb: Auto mechanic Grace Bennett is again indulging her mother's OCD when she crosses paths with a broken down sedan on the side of a snowy country road. The driver is none other than the saving grace to this single woman's sanity, the hottest actor in Hollywood, Aaron Elias. Snowed in overnight, they relate to each other faster than she thought possible but he has his world in California and she has hers in workaday Philadelphia. She's certain when they go their separate ways, she'll only be a passing memory for Aaron.
But she's not. He brings her out to Malibu and tries to make her a part of his life. Even though they grow closer, in his world she feels like a round peg in a square hole. His life is more of a fantasy than even she could've imagined and she retreats back home, ready to put Aaron and his world behind her and go back to her every-day-the-same existence.
In Grace, Aaron has found the grounding he needed. Grace makes him see who he is and what he really wants. Until her, he's only been mailing in his career, even though he says he wants to shoot for the stars. She shows him how but then she leaves. He chases her back to Philadelphia and makes her see, a little fantasy in life is what makes it worth living.
And because Caroline is letting no grass grow under her feet, she just put out her first book, Heated Competition. Here's the blurb: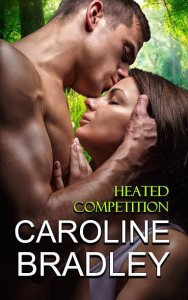 Phys Ed teacher Lindsey Kincaid has spent two years running her ass off to rebuild the life her ex ruined. She depends on her coaching stipend from the cross-country team, and when colleague Gabe Shraeder sets his sights on taking over her team, she can't back down. Why is the son of one of the richest families in three counties a high school teacher, anyway? Is slumming it the latest trend in noblesse oblige? But the varsity soccer coach is hotter than the track in July, and a harmless beer bet lands her in Gabe's arms.
Lindsey would prefer if their casual spring break hook-up meant nothing, but Gabe turns out to be anything but casual. His touch reminds of things she misses like intimacy, pleasure, and companionship. With him, she's not alone anymore; she doesn't have to fight. But Gabe has secrets of his own.
Is Gabe trying to help her, or does he want to take over her team and her life? She's done things she regretted to keep the home and the dream she still clings to. What in Gabe's past will shape Lindsey's future? In this Heated Competition, can either of them win?
Now, let's move on to "This or That?"
Snack of choice: Sweet or salty? BOTH! I love mixing the two. Every Christmas (and sometimes before then) my kids and I make what we call Pretzel Buttons. Take Hanover Butter Snap pretzels (wagon wheel style will work too), lay them all flat on a baking sheet, then put an unwrapped Hershey Kiss on each one. Bake in the oven at 250 for 3 minutes. Take the sheet out and press an M&M into each half-melted Kiss (mush them in so the chocolate melts into the pretzel). Let cool and enjoy! (I've been told creativity in the kitchen relates to creativity in the bedroom.)
Sneakers or heels? Sneakers all the way. I'm a runner girl. There's a magnet in my kitchen that says, "Forget the glass slippers; this princess wears running shoes!"
Cardio or yoga? All the above. Cardio because I love to run, yoga for strength and balance. Moderation in everything is key. Unless it's…well, you know… <wink> Then go get all you can get.
E-book or print? I love my Kindle but books have their place too. I don't see paper books ever going out of style, but being able to take my Kindle on the elliptical and letting it read to me? Priceless…except the text-to-voice option sometimes mispronounces things. That, too, can be quite amusing.
Bradley Cooper or Brad Pitt? With a name like Caroline Bradley, take a guess. I have a thing for men with blue eyes. Always have, always will. Besides, Brad Pitt is taken. Bradley Cooper is not. Yet. (He hasn't met me yet.)
Plain ol' lettuce or super-fancy kale? I actually prefer spinach in my salad to lettuce, but kale chips? OMG. I forget where I found the recipe but it's the one time I can make two teenage boys fight over vegetables.
Find Caroline at carolinebradley.net or on Facebook at Caroline Bradley.