Posts Tagged 'historical romance'
Confession time: When I'm not writing contemporary romance, I LOVE to read historicals.
One that I'm looking forward to diving into just as soon as I finish my current pick, Ruby Kim Law's CAUGHT ON CAMERA, is my friend Kathleen Bittner Roth's A DUKE'S WICKED KISS. She has graciously offered me an ARC copy to read and a second ebook to give away to a lucky reader.
The blurb: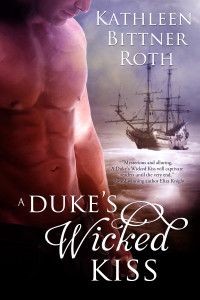 While on a secret mission for the Crown, a proper duke falls for an improper daughter of an Indian royal and British noble.
Miss Suri Thurston knows the pain of abandonment. Intent on confronting the grandmother who tossed her to the lions, she travels from England to her birthplace in India. Her plans run afoul when she encounters the man who, ten years prior, left a mark on her soul with one stolen kiss. But he is a duke, and far beyond the reach of even her dreams.
The Duke of Ravenswood, secret head of the British Foreign Service, has no time for relationships. His one goal is to locate and eliminate key insurgents involved in an uprising against the British East India Company before it's too late. But when Suri appears in Delhi, his resolve is tested as he finds his heart forever bound to her by the one haunting kiss they shared once upon a time.
With Suri's vengeful Indian family looking for her death, and insurgents intent on mutiny tearing their world apart, can their love rise above the scandal of the marriage they both desperately want?
Intrigued as I am? Hop on over to my Facebook author page and comment on the post pinned to the top of the page. I'll pick a winner a week from today, on Wednesday, Sept. 10.