Posts Tagged 'Madeline Martin'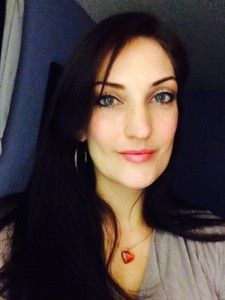 Help me welcome my friend Madeline Martin to Writer Wednesday. Madeline is a fellow LaLaLa, and she was a guest for my Breaking All the Rules release party back in March. Her question about the appeal of nerdy guys generated a great discussion — and resulted in my brother earning the crown as king nerd.
Madeline writes Scottish historical romance, so this introduction wouldn't be complete without a mention of my love for Highlander, the TV show. Adrian Paul was yummy, wasn't he?
Her debut novel, Deception of a Highlander, came out in April. With a kilted hero, a sharp-witted  spy, intrigue and enough hot, hot scenes to steam up the windows, it sounds like a fantastic read. And if you like highlanders, her follow-up, Possession of a Highlander, is set for release in August.
Here's her official bio:
Madeline Martin lives in Jacksonville, Florida with her two daughters (AKA OldestMinion and YoungestMinion) along with their two cats: SketchyCat who stares at walls and eats fuzz and LapCat who has a shoe fetish and enjoys Kung Pow peanuts. All shenanigans are detailed regularly on Twitter.
Madeline graduated from Flagler College with a degree in Business Administration and works for corporate America. Her hobbies include rock climbing, running, doing crazy races (like Mud Runs and Color Runs) and just about anything exciting she can do without getting nauseous.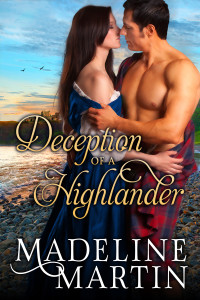 About Deception of a Highlander:
Scottish Romance doesn't get much steamier—or more dangerous—than a spy hunting her quarry, and losing her heart to him instead.
To pay a seemingly impossible debt, Mariel Brandon has become a spy for Aaron, one of England's deadliest minds. Aaron's latest mission for the sharp-witted and daring Mariel is to find two people in a heavily fortified castle on the Isle of Skye, a castle headed by the clan MacDonald and the powerful Kieran. Mariel is to seduce Kieran and get him to take her to Skye. If she succeeds, Aaron promises to let Mariel's young brother go, and to free both of them from their debt. If she fails, her brother will die.
What she doesn't count on is craving Kieran MacDonald almost immediately upon meeting him. Now Mariel must keep a secret from Kieran—one that could get them both killed—as she tries to form a plan that will save her brother, get her out from under Aaron's thumb once and for all, and keep her in Kieran's strong arms forever.
Now, for a round of "This or That":
Cake or pie? Cake (really just the frosting, but that sounds a little too shameless, doesn't it?)
Snack of choice: sweet or salty? Sweet, then salty, then sweet, then salty — continue until I'm overfull of junk and self-deprecating loathing.
Kilts or jeans? I prefer both totally off, please 🙂 But if given the choice, a kilt — especially if it comes with a six-pack (and I dinna mean beer, aye?) 😉
Urban dweller or country gal? Urban dweller all the way. I'm too Type A for the country.
Chest hair or bare? Bare or a light speckling. I'm not a bear fan. Just sayin.
Favorite writing spot: Home office or coffee shop? Home office. I make these faces when I write highly emotional scenes….yeah….
Madeline has graciously agreed to give away an e-book copy of Deception of a Highlander to one lucky commenter. To enter, pick one of the "This or That" questions and share your answer … or just tell us what you think of Adrian Paul.
He's on Facebook, by the way. I had no idea. Naturally, I liked the page after taking this screenshot.