Posts Tagged 'Mike James'
With BREAKING ALL THE RULES coming out in a few short weeks,  I should probably be giving you a teaser from it.

But when I saw this week's My Sexy Saturday theme was "My Sexy Addiction," I couldn't resist. I simply had to pick a scene starring Mike James.
You see, Mike is probably MY sexy addiction. Don't get me wrong: I love each and every one of my heroes—all for different reasons. However, if I were pressed to pick one, it'd have to be Mike, the sports reporter/stripper/inveterate flirt who captures the attention of not one but two women of Willow's Grove.
In OPERATION SNAG MIKE BRAD, education reporter Erin starts out lusting after Mike but soon learns life is what happens when you're making other plans. Mike, who has what he thinks are good reasons for flirting the way he does, secretly longs for the kind of girl he uses his reputation to hold at bay—until a drunken night with coworker Breanne forces him to face his demons once and for all. (That's OVEREXPOSED, the third Willow's Grove book.)
These seven sentences are from near the end of Erin and Brad's story, in which Mike plays a big part. He's a third POV in the manuscript—a departure for me, since I usually stick to just the hero and heroine POVs.
See? I know Mike better than any other character I've created, so he'll always have a special place in my heart.
***
She followed her roommate's finger to the couch, where a shirtless Mike snored. A blanket rode low on his hips, exposing the flat, tan plane of his stomach — and hinting at a bottom half as naked as the top. Erin quickly looked away, finding the cat that belonged to the cat condo in the corner of the room. A big, gray furball watched them from its perch on the back of the couch. She suppressed a nervous giggle and jabbed her elbow into Cassie's ribs. "Maybe he really does sunbathe in November."
"Maybe," Cassie replied, appreciatively ogling the sleeping sportswriter. "I'm beginning to understand what you two see in him."
"Not me. Not anymore." Sure, Mike's … umm … man candy was worth admiring. But she meant it when she added, "I prefer something a little — lot — more real."
Cassie snickered. "Bree doesn't share your sentiment."
Sure enough, Bree's gaze was still riveted to Mike's bare midsection. Her eyes glittered with interest. Knowing what it was like to lust after something she couldn't have, Erin took pity on her. With very little effort, she might be able to get the blanket to shift a little lower.
"Close your mouth, Bree. You're starting to drool," she muttered under her breath. Then she cleared her throat — loudly. "Yo, James."
Bree squeaked with alarm. At the same time, Mike smacked his lips and rolled onto his back. The blanket moved a fraction of an inch higher. Crap. "Not what I was aiming for."
Operation Snag Mike Brad is still unpublished — for now. But if you liked this snippet, check out my Amazon author page for my published stories.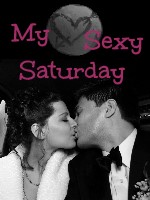 It's Saturday again — and this week, I don't feel like I've been dragged through a tar pit and then forced to go to prom without changing. My head is only mildly stuffy, not filled with snot, and I'm ready to rejoin the land of the living.
That means I'm back for the My Sexy Saturday blog hop. The rules are simple:
Post 7 paragraphs or 7 sentences or 7 words. The choice is yours. It can be from a WIP or something you already have published. Your post should be live by 9 am US Pacific Time on Saturday. Put those lucky 7s to work for you!
This week, I'm bringing you another booty-licious scene with my favorite hero, Mike James.
Aww, who am I kidding? I love all my heroes. That said, I'll always have a big, squishy soft spot in my heart for Mike. He's the first guy character I created, although it was quickly apparent he would NOT be Erin's hero. Not Mike. He wasn't right for Erin, no matter how much she wanted him to be. Persisted in thinking of her like the kid sister he never had. I realized he needed his own story, the happy ending he didn't believe he deserved.
And I proceeded to write him one. In OVEREXPOSED, faux bad-boy Mike gets his happily-ever-after, with the ultimate good girl — a 24-year-old virgin.
In this scene, he's about to relieve her of that condition. They're at a bar, across the street from the no-tell motel room they're being forced to share by a snowstorm. They've both had a bit too much to drink, and Bree is putting the moves on him (for what she believes at the time to be an excellent reason). Mike is trying desperately to resist her.
***
If I'm lucky, I'll get drunk enough to pass out before I can do something we'll both regret.
But as the minutes ticked by, and Breanne responded to every evasion by trying even harder, it became increasingly clear to Mike that resisting her advances wouldn't be easy. She obviously wanted him — and had for quite a while, if the hints she'd been dropping were to be believed. He desperately hoped her comments weren't the ravings of a drunken lunatic, because he wanted her, too. He sure as hell didn't deserve her, but he wanted her just the same. And if she felt the same way, there was nothing to stop them from fulfilling their mutual desire.
Nothing except your innate sense of decency.
And there it was: the elephant squatting on the barroom table. If he did take up with Bree now, he'd become the bad-boy playboy he was pretending to be to hold her, and every decent woman like her, at bay.
He'd never be able to live with himself then. Hell, he barely tolerated himself now.
Time to end this flirtation before it spiraled even farther out of control. Surely she'd balk if he flat-out propositioned her.
"It's late, Red," he said, scraping his knuckles over her denim-clad thigh. He stroked her thigh, getting dangerously close to the part of her that he ached to fill. "What do you say we get out of here and find something better to do with our time?"
Instead of pulling away, she practically purred and arched into his hand. "What'd you have in mind?"