Posts Tagged 'My Sexy Satuday'


I'm in the throes of NaNoWriMo…and way behind, so this blog post has to be quick. Friday was Day 21, and I just crossed the halfway mark (25K) Thursday. Needless to say, I don't think I'll make it to 50K
Chalk up another one for "plotting rules, pantsing drools."
This week's My Sexy Saturday theme is "Our Sexy Thanksgiving."
Say what?
"… This week show us all the characters love family. Maybe it's someone who doesn't have one and suddenly they find themselves with one. It could be about someone who has always looked in and wanted a home with all the trimmings including a family. There are many ways to be thankful and we'd love to hear some of those wonderful stories."
Okay. I think I can find something that fills the bill.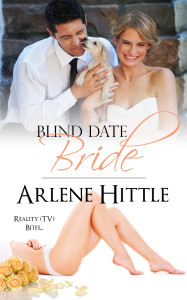 In BLIND DATE BRIDE, Damien is the only child of college professor parents—and when he meets his reality TV wife's family, he's a bit overwhelmed. Her sisters ogle him, her brothers threaten him and he earns dirty looks for being a Cubs fan in a house full of White Sox lovers. In this seven-sentence snippet, Damien and Kari have arranged an after-dinner walk to keep her parents from watching the latest installment of "Just Married" (because it contains some embarrassing footage of Kari and Damien making out in his car).
A quick primer: Steve and Sean are Kari's brothers. Claire and Shannon are her sisters. Frank and Sarah are her parents.
***
When they got back to the house thirty-five minutes later, Kari and Damien exchanged a glance. She took a deep breath and whispered, "Here goes nothing."
Damien pushed open the door and was immediately greeted by Sean's hostile stare. Steve, however, flashed him a thumbs-up, mouthing the words, "Good job."
Kari's other sister greeted them with a harsh laugh. "I stand corrected."
Beside him, Kari's face flamed fire engine red. Damien narrowed his eyes at the other woman. For some reason, he didn't like this sister much.
It was then that Shannon came rushing to the rescue. "Mom, I have some bad news: The DVR malfunctioned."
Sara Parker stamped her foot in frustration and looked at Kari. "I so wanted to see you in action, dear."
Kari sucked in a breath at her mother's word choice. Even Damien found it unfortunate. He was about to say something to come to her rescue when her brothers threw in their two cents' worth. Sean tried unsuccessfully to stifle a snort and Steve quipped, "Trust me, Ma. You didn't miss a thing."
Find BLIND DATE BRIDE at Amazon, Barnes & Noble and Kobo, and in print at CreateSpace or Amazon.