Posts Tagged 'Pine Mountain novella'
Wednesday again? That makes it time for a new installment of Writer Wednesday.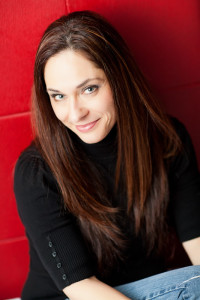 This week, my featured writer is Kimberly Kincaid.
I met Kimberly in 2011, when we were in same class of RWA Golden Heart finalists, and was thrilled to hear she's a RITA finalist this year. (Pushing the Line is a finalist in the Romance Novella category.)
Her enthusiasm — for writing, food and life in general — is contagious.
Kimberly Kincaid writes contemporary romance that splits the difference between sexy and sweet. When she's not sitting cross-legged in an ancient desk chair known as "The Pleather Bomber," she can be found practicing obscene amounts of yoga, whipping up anything from enchiladas to éclairs in her kitchen, or curled up with her nose in a book. Kimberly is a 2015 RWA RITA® finalist who lives (and writes!) by the mantra that food is love. Her digital Line series is all about the hot cops and sexy chefs of Brentsville, New York. She is also the author of the Pine Mountain series, which follows small town singles as they find big-time love. Kimberly resides in Virginia with her wildly patient husband and their three daughters. Visit her any time at www.kimberlykincaid.com or come check her out on Facebook (www.facebook.com/kimberly.kincaid1) and Twitter (@kimberlykincaid).
Her latest book, Just One Taste, is No. 4.5 in her popular Pine Mountain series. The blurb:
A little home improvement can go a long way…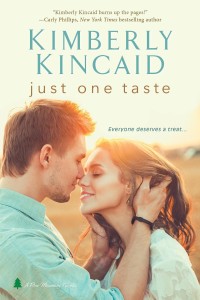 Jesse Oliver was a medic in Afghanistan, but back home in Pine Mountain he's happy to switch gears as the Double Shot bar's new sous chef. When his apartment floods and his old Army buddy offers the family's dilapidated lake house as temporary quarters, Jesse thinks a little remodeling on the creaky duplex sounds like a fair return favor. That's before he sets eyes on the gorgeous woman moving into the other side of the cabin—and discovers she's his buddy's kid sister, a.k.a totally off limits.
Kat McMarrin has fought hard for her space, and she's not too interested in sharing it. Of course, her job as a physical therapist means she won't see much of Jesse, even if he's a few thin floorboards away—unless she seeks him out. And with his sculpted body and slow-burn gaze, she might be tempted. Maybe the fixer-upper projects she has planned for the cabin will keep her mind off him. Or maybe her instincts to strip the place down will get out of hand…
Sounds fantastic!
Now let's play "This or That?"
I think I already know the answer to this one, as does anyone who follows you on Facebook, but I'm asking anyway. Sneakers or heels? Heels 🙂 The higher, the better. I love them!
Breakfast of choice: Sweet or savory? Savory. My current addiction is an egg white scramble with turkey sausage and spinach.
Paper calendar/journal or electronic version? Paper calendar. I am very tactile. I like to flip the pages!
Iron Man or Captain America? I so don't want to choose here. It's very close to a tie. But I'll go with the Captain. I think it's the smile!
Bacon or sausage? Bacon. No brainer.
Shopping bags: paper, plastic or reusable? Reusable! I have tons of them and use them all the time.
Want a copy of Just One Taste? Get it here:
Amazon: http://www.amazon.com/Just-One-Taste-Pine-Mountain-ebook/dp/B00ONTR6QK/ref=sr_1_1?ie=UTF8&qid=1427648064&sr=8-1&keywords=just+one+taste
B&N: http://www.barnesandnoble.com/w/just-one-taste-kimberly-kincaid/1120611621?ean=9781420138887
iBooks: https://itunes.apple.com/us/book/just-one-taste/id936554326?mt=11
Kobo: https://store.kobobooks.com/en-US/ebook/just-one-taste-10