Posts Tagged 'psychic love-connection'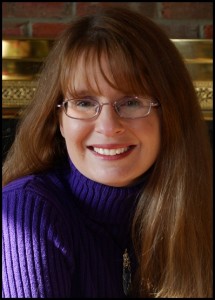 Join me in welcoming Mary Behre to the blog for this edition of Writer Wednesday. I've known Mary for what seems like forever. I think we met for the first time at RWA Nationals in Anaheim, but had exchanged emails before that. Mary is an organizational queen, forever coordinating contests and marshaling volunteers. She's also another member of the LaLaLa group that I love.
Fun fact: her name rhymes. Before we met in person, I assumed Behre was pronounced "bear"—like a certain hero from JUST RIGHT. But you know what happens when you assume. It's actually pronounced "Berry"—like the fruit.
In her own words: Award-winning author Mary Behre loves stories with humor, suspense, a touch of the paranormal and above all else, a good romance. She tries not to take herself too seriously, often claiming as the lone female in a house full of males, she's the undisputed queen. And even has the glittery tiara to prove it. When not writing, she enjoys reading, gluten-free baking, and hanging out at the beach with the most important men in her life, her family.
Mary's newest book, Harmonized (A Tidewater Novella), continues her popular Tidewater series. It's Book 2.5 — and it just came out yesterday. Isn't the cover gorgeous?
About the book: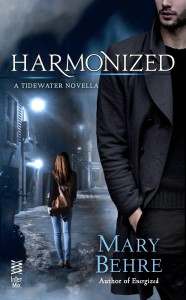 Old lovers reunite on Valentine's Day to find a missing baby the world thinks is already dead…
After nearly dying on assignment, Tidewater police officer Zig Harmon has been awarded the Silver Star and desk duty. But handling every case that walks through the door while his entire department is out hunting a serial killer is nothing compared to dealing with his former flame, Karma De La Cruz.
As much as she hates it, Karma knows that her best chance of finding the kidnapped baby haunting her visions is the man she once left behind. Forced to work together, Karma and Zig start to realize that they may have let go of something incredible. But now, time is running out, both for the missing infant and for their chance to start again…
Harmonized is already getting some great press:
"Mary Behre consistently delivers a fun, suspenseful read with a delightful paranormal twist." –Lena Diaz, author of Exit Strategy
And my personal favorite:
"Harmonized hit all the right notes." –Herding Cats & Burning Soup
I love a good play on words! Read on below this week's "This or That" questions for a sneak peek. But first, let's get to know Mary a little better.
Sweet potato fries or regular fries? Oh, regular definitely. I detest sweet potatoes. The best fries are steak cut and coated in Old Bay seasoning. They're so yummy, I think I'll go make some right now!
Leather or lace? Leather's too sweaty and lace is too itchy, so I'll have to say neither. I'm a cotton or silk girl all the way. I prefer to wear something that breathes. Unless I'm getting dressed up, then it's silk for me.
Night owl or early bird? Mostly an early bird. Although, when I'm really pushing myself to finish the first draft of a novel, I often sprint with friends in a cyber chat room at night. Still, I usually hit a wall at 11pm my time. LOL
Personal chef or personal trainer? Personal chef. I love to eat well but I hate to cook. One of the first things that had me falling for my husband was he prepared a caesar salad from scratch. Best salad ever. Then he introduced me to marinated flank steak. Yep. He definitely worked his way into my heart through my stomach. 🙂
Writing time: Home office or coffee shop? Neither. I do some of my best writing at the library. Plus, I don't have to worry about dogs barking, kids yelling, or the phone ringing. Plus, I love the whole shush factor at my local bibliotheca.
A library? That's a new one for me. I might have to give it a try. I like the whole "no dogs, no phone" thing. (I'd no doubt appreciate the "no kids" part, too, if I had any.)
Now the excerpt you've been waiting for:
"You shook my entire belief system to the core when you walked out. The woman I'd fallen in love with was full of compassion and kindness. She wanted to be a nurse. To save the world. But the woman who abandoned me? I couldn't reconcile her with the woman I loved.

"It was conceivable that the party girl did take the money and run to Cabo. You never called to contradict the story. I didn't know what was real, and it screwed with my head every time I thought of you. Eventually, I tried not to think about you at all." 
"Great," she said, her heart in her throat, choking her almost as badly as his words. "Because I never stopped thinking about you. See, more regrets. Had I just talked to you that day—" 
"We'd have argued." Zig dropped his arms to his sides and closed the distance between them. "We'd have fought and you'd have still left. I might have chased you, but I couldn't have stayed in Mexico for four years. We'd have still broken up because eight years ago, we were children trying to act like adults. Today, you're a woman and I'm a man." 
"So that's it? Eight years of pain was for nothing?" Karma didn't know whether to laugh or cry or kick Zig in the balls.
"No, not for nothing. We had to take separate journeys to get here, to this moment. So I could apologize to you for not fighting harder. Being too young and stupid to see you needed me, even when you thought you didn't. I'm sorry, Carmelita. Truly sorry." 
"I'm sorry too," she said, the fight drained out of her. She'd lost him so long ago but at least she could start over knowing he didn't hate her anymore. 
"No more apologies, Karma." Then he silenced her by brushing his lips gently over hers. 
It wasn't a kiss of old lovers reunited. But it could have been. 
It wasn't a kiss of promise. But it might have been. 
It wasn't a kiss of passion. But it was. 
It was all those things and more. The feel of his soft mouth on hers, was old and new, and more than she could have hoped for.
Get Harmonized on your e-reader of choice:   Amazon     Barnes & Noble     Books-A-Million     iBooks
You can find Mary on Facebook, Twitter, Goodreads or her website, marybehre.com