Posts Tagged 'shortstop'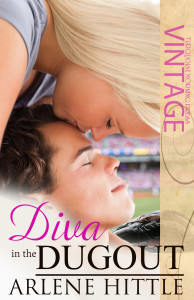 … For the news I've been waiting to share all week: My debut, DIVA IN THE DUGOUT is live.
It's been a whirlwind from getting the call in July to seeing my first book available for sale. I keep pinching myself, expecting to wake up and find the last few months were all a dream.
But so far, it seems to be real. DIVA now exists in cyberspace. Type "Diva in the Dugout book" into Google and you get links to Smashwords, All Romance Ebooks and various blog posts I've written in the last few months.
Leave off the word "book" and the results aren't quite as clear-cut, though. You get a Facebook page for someone called "The Dugout Diva" and the Sioux Falls, S.D., Canaries Dugout Divas. I suppose you can't win 'em all.
The details:
Diva In The Dugout by Arlene Hittle
A Turquoise Morning Press VINTAGE CATEGORY ROMANCE #106 (and All Is Fair in Love and Baseball, #1)
Classic Romance, Heartfelt Happily Ever After
Can the Condors bad boy step up to the plate and knock out a home run for fatherhood? And if he does, will his daughter's mamma be ready?
After a successful stint in drug rehab, Arizona Condors shortstop Dave Reynolds is still trying to outrun his bad boy reputation. When the team's new owners tell him to shape up or be fired at season's end, he vows to change. He doesn't count on fatherhood playing a part in his transformation.
Melinda Cline makes a rash decision: take solace in the arms of a sexy-as-sin ballplayer whose name she tells herself she doesn't want to know. Big mistake. Now, a single mom to a four-year-old, Mel strives to live as cleanly and quietly as possible. But fate intervenes and she comes face to face with the man who insists on being included in their daughter's life. The attraction between them is still strong, but it may not survive Dave's reputation or his attempts to do the right thing.
Release: October 18, 2013
Category: Fiction, Romance, Contemporary (Category-Vintage)
Rating/Heat Level: Sensual-Sizzle
Length: Novel, 51,000 words
ISBN: 978-1-62237-207-2
Ebook Price: $2.99
Digital Download – Available Formats – EPUB, PRC/MOBI, LIT, LRF, PDF
I started a mini blog tour Friday, chatting with J.M. Kelley about my book, where I do  my best writing and the eternal debate: Print books or ebooks? Click through to see where I stand …
On Monday, I'll be at the Ruby Slippered Sisterhood, talking about my trouble with the (learning) curve of a debut author. (No, I haven't seen the movie yet, but it's on my list.) And on Wednesday, Oct. 30, I'm guest blogging with Lynn Cahoon. We'll talk about DIVA and the best writing advice I've ever gotten.
Want to get your hands on a copy of DIVA IN THE DUGOUT?
Find it at Turquoise Morning Press, Smashwords, All Romance Ebooks, Amazon. Smashwords will begin distributing to BN, Kobo, iTunes and other e-tailers within the week, my publisher says.
Check out these screen shots from the various websites: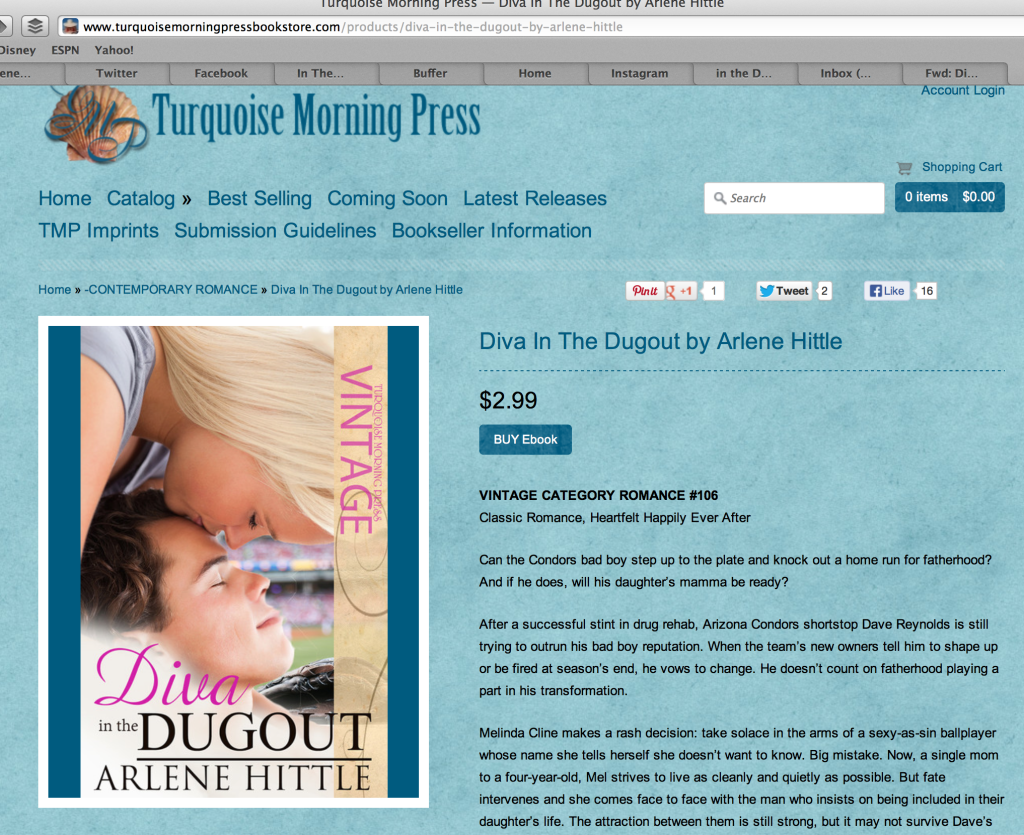 If you want to add DIVA to Goodreads, you can do that here.
As for me, I'm so excited, I doubt I'll be able to sleep tonight. Time to go down copious amounts of carbs in an effort to knock myself out, because I have to drive 3-ish hours to Payson bright and early in the morning.