Archive for May 2014 | Monthly archive page
Happy Mother's Day to all the moms out there.
As you might know, my mother's no longer with us. She died in 2003. That was 11 years ago? Wow. It doesn't seem possible that she's been gone so long.
Maybe that's because I always carry her with me, courtesy of all the lessons she taught me over the years.
Before I was born, my mom taught English and math—to high school students. I can't imagine. Seems like they'd be the worst age to handle, with all the raging hormones, overwrought teen drama and bad attitude. But she seemed to have liked it—and her students seemed to have fond memories of her, too. (I went to school with a lot of the kids of the kids she taught.)
Among her lessons:
1. Reading is fun.
I can't count the number of times I saw my mom with a book. She was always reading, everything from classic Updike to Danielle Steel. It was the influence of her and my dad, another voracious reader, that got me reading at age 4. My parents read all the time and I wanted to be like them, so they taught me to sound it out.
2. Butter cookies rule.
There are two types of people in the world: Sugar cooke folks and butter cookie fans. Our family falls into the latter category. Mom's butter cookie recipe, which she got from her mom (who apparently shared it with Kelly Ripa), is flaky, crisp and just sweet enough.
About Kelly Ripa: I'll never forget Mom calling me, excited because Kelly made her family's favorite Christmas cookies on her show—and it was mom's recipe that she shared. I guess Grandma got it off a box of butter or something?
Every year, after Mom baked the cookies (which I now know is a pain in the butt, rolling out the dough and cutting the shapes), she'd frost them while my brother and I decorated with sprinkles, colored sugar and other fun toppings. (My fave was the tiny candies shaped like flowers.)
3. Live life—and attack problems—with humor.
This is probably the biggie. My mother had a great sense of humor. She was the mom who sat in the back of the band bus and told jokes, or sat around the Girl Scout campfire telling funny stories.
She laughed a lot, and was first to deflect sadness with a joke or smile. Er, actually my whole family is like that. I remember when Dad died, my brother, cousins and I broke from the funeral home for pizza, and laughed jokes and funny stories until our sides ached.
Laugh through the tears, I guess.
Wikipedia tells me it was Ella Wheeler Wilcox, a Wisconsinite, who wrote "laugh and the world laughs with you."
Laugh, and the world laughs with you;
Weep, and you weep alone.
For the sad old earth must borrow its mirth
But has trouble enough of its own.
— From "The Way of the World," a poem (1883)
That may well be—but my mother lived it.
I, for one, am glad, because I got my sense of humor from her. I'm quick to laugh and I crack jokes at what some people might call inappropriate times.
Every time a line in one of my books makes a reader laugh out loud, I hope she hears it and knows that she had a hand in making the world a happier place.

To celebrate the release of my third book, SLIDING INTO HOME, I'm embarking on my first blog tour.
I've enlisted the wonderful Alex Rosa of Wanderlust Book Tours to run it and keep me organized—no small feat, let me tell you. Somehow the gal who used to turn in papers two weeks early in college now bumps up against every deadline she meets. (You can read my lament on that subject here.)
She created this gorgeous banner (currently my Facebook Author Page header).

The tour starts tomorrow; the schedule is below.
May 5th: 
May 6th
May 7th
May 8th
An Aussie Girls WILD Book Addiction
May 9th
May 10th
May 11th
May 12th
May 13th
May 14th
May 15th
May 16th
Stop by for chances to win free ebooks or a fabulous gift basket that includes an autographed print copy of DIVA IN THE DUGOUT (All Is Fair in Love & Baseball 1), as well as $5 gift cards to Dunkin' Donuts and Amazon, baseball-themed trinkets, an iPhone 5 case with my logo and some Cracker Jacks. (Gotta have snacks while reading, right?)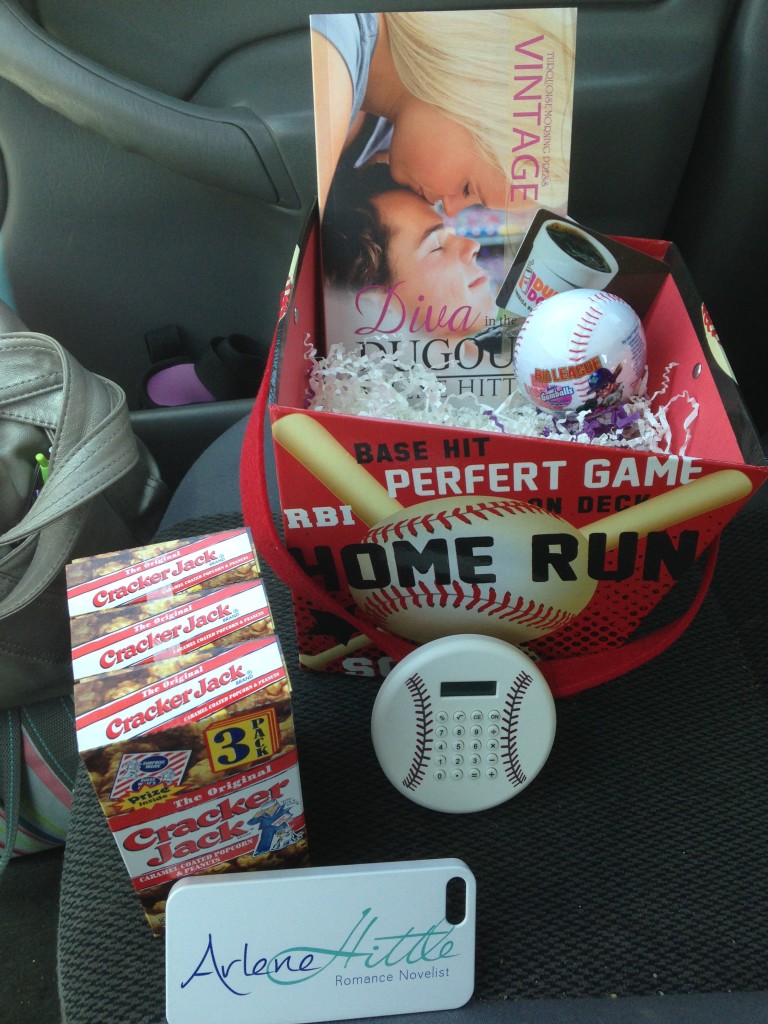 I picked up the basket at Safeway before Easter, thinking it'd be perfect for the giveaway. Only when I snapped this photo for Alex did I notice the typo, front and center.
What the heck is a "perfert game"?
Further proof, if any was needed, that everyone needs a proofreader. 😀