Archive for February 2015 | Monthly archive page
With BREAKING ALL THE RULES coming out in a few short weeks,  I should probably be giving you a teaser from it.

But when I saw this week's My Sexy Saturday theme was "My Sexy Addiction," I couldn't resist. I simply had to pick a scene starring Mike James.
You see, Mike is probably MY sexy addiction. Don't get me wrong: I love each and every one of my heroes—all for different reasons. However, if I were pressed to pick one, it'd have to be Mike, the sports reporter/stripper/inveterate flirt who captures the attention of not one but two women of Willow's Grove.
In OPERATION SNAG MIKE BRAD, education reporter Erin starts out lusting after Mike but soon learns life is what happens when you're making other plans. Mike, who has what he thinks are good reasons for flirting the way he does, secretly longs for the kind of girl he uses his reputation to hold at bay—until a drunken night with coworker Breanne forces him to face his demons once and for all. (That's OVEREXPOSED, the third Willow's Grove book.)
These seven sentences are from near the end of Erin and Brad's story, in which Mike plays a big part. He's a third POV in the manuscript—a departure for me, since I usually stick to just the hero and heroine POVs.
See? I know Mike better than any other character I've created, so he'll always have a special place in my heart.
***
She followed her roommate's finger to the couch, where a shirtless Mike snored. A blanket rode low on his hips, exposing the flat, tan plane of his stomach — and hinting at a bottom half as naked as the top. Erin quickly looked away, finding the cat that belonged to the cat condo in the corner of the room. A big, gray furball watched them from its perch on the back of the couch. She suppressed a nervous giggle and jabbed her elbow into Cassie's ribs. "Maybe he really does sunbathe in November."
"Maybe," Cassie replied, appreciatively ogling the sleeping sportswriter. "I'm beginning to understand what you two see in him."
"Not me. Not anymore." Sure, Mike's … umm … man candy was worth admiring. But she meant it when she added, "I prefer something a little — lot — more real."
Cassie snickered. "Bree doesn't share your sentiment."
Sure enough, Bree's gaze was still riveted to Mike's bare midsection. Her eyes glittered with interest. Knowing what it was like to lust after something she couldn't have, Erin took pity on her. With very little effort, she might be able to get the blanket to shift a little lower.
"Close your mouth, Bree. You're starting to drool," she muttered under her breath. Then she cleared her throat — loudly. "Yo, James."
Bree squeaked with alarm. At the same time, Mike smacked his lips and rolled onto his back. The blanket moved a fraction of an inch higher. Crap. "Not what I was aiming for."
Operation Snag Mike Brad is still unpublished — for now. But if you liked this snippet, check out my Amazon author page for my published stories.

It's Saturday — and you know what that means. Time for the My Sexy Saturday blog hop.
I'm in a bit better headspace to pick a sexy scene now than I was a few hours ago. Then, I'd just discovered that when you Google "Arlene Hittle Author," the first link that comes up (purportedly to my site) misdirects people to some spam site hawking cheap NFL jerseys. I'm still trying to get the mess straightened out, so until then, type "arlenehittle.com" into your browser instead.
This week's My Sexy Saturday theme is "a sexy Valentine."

Umm … I don't think ANY of my books has a Valentine's Day-specific scene. Most of the action happens in summer and fall. BEAUTY AND THE BALLPLAYER is set in March, after the big V-day. And my novella, HOME FOR THE HOLIDAYS, happens in winter, covering the few weeks between Thanksgiving and Christmas.
Luckily, I have an out:
" …Share all those sexy moments that you have between your characters even if your story doesn't exactly fit the theme this week…remember every relationship is important!"
That I can do!
Let's go with a moment from my upcoming March release, BREAKING ALL THE RULES. BREAKING is the story of a by-the-book health care administrator who finds herself in need of a Klingon interpreter. Of course, the main candidate for the job is a sexy man who's never met a rule he didn't want to break. In this scene …
Enjoy!
***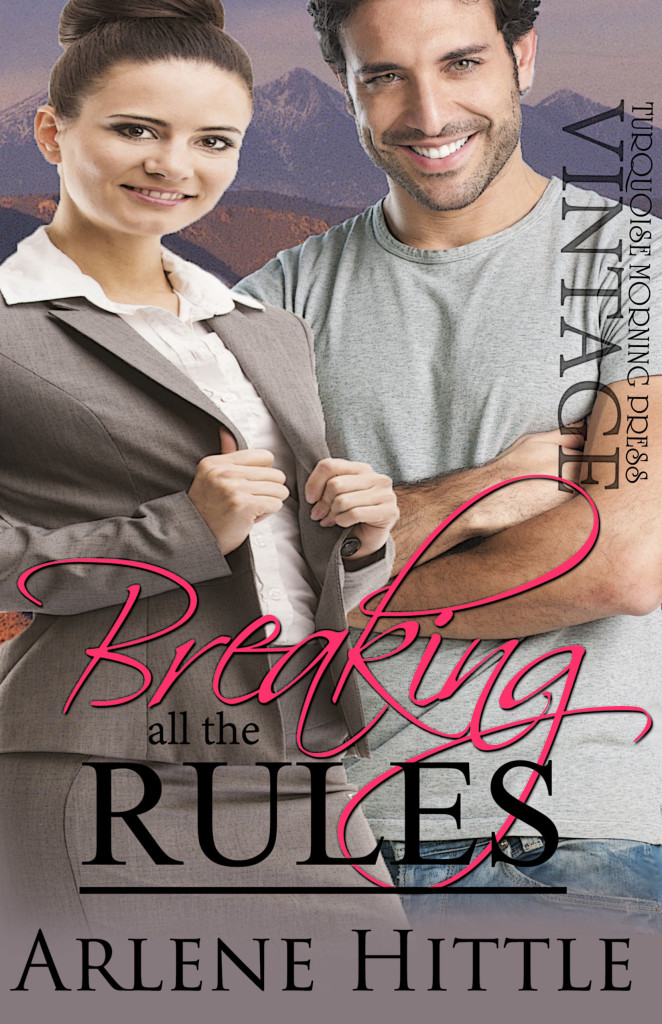 He pressed his lips together and suppressed a sudden urge to kiss her senseless. One of them had to maintain a certain sense of decorum—and apparently tonight, he'd have to appoint himself to the task.
That'll be a switch.
He tapped two fingers against each knee. Every strike reinforced the message: This is your boss, dumbass. The woman who signs your paycheck.
Okay then. Time to change the subject. Unfortunately, his mouth had other ideas. "What happened to by-the-book Allyson?"
She pouted. "You don't like the new me?"
"It's not that." He gulped again. Maybe air would magically restart the flow of blood to his brain. "I think maybe I like the new you a little too much."
That scared her. He saw the moment old stuffy Allyson regained the upper hand. She turned back to the mirror and began taming her hair. With every pin that went in, she stood straighter, stiffer—more like herself.
I posted my new cover on my Facebook author page already, but it hit me I should share it here on the blog.
Yes, I realize I've been neglecting the blog despite what I learned at RWA Nationals last summer. I'm trying to get better — promise. Things are still crazy here, what with the new job and everything.
Without further ado, here's the cover for BREAKING ALL THE RULES.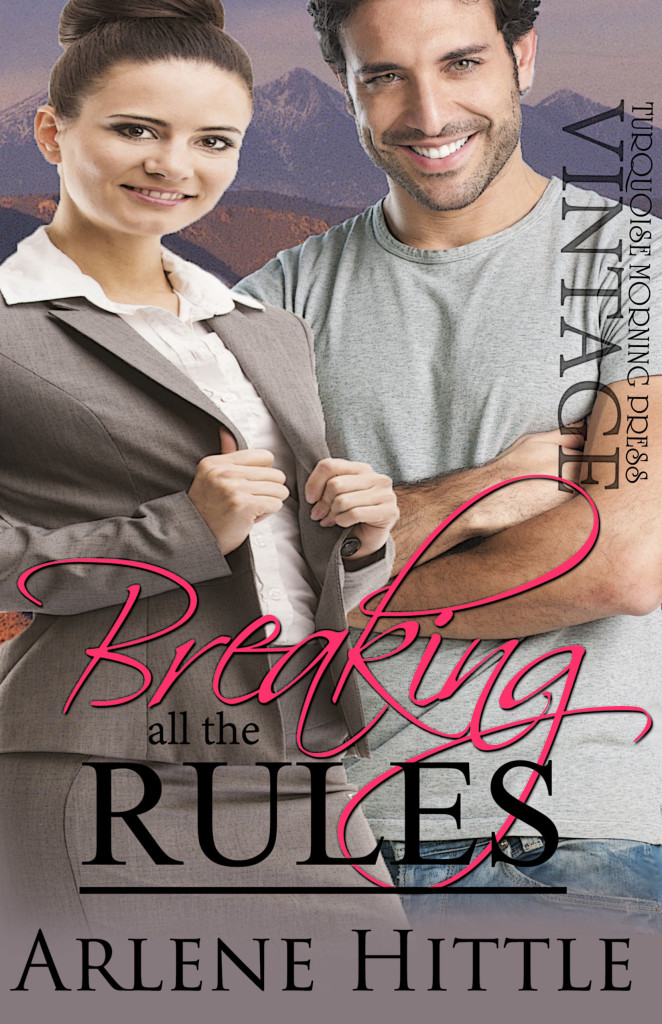 It's set to come out the week of March 19. In fact, I'm going through the galley now.
BREAKING, about a by-the-book mental health facility administrator who must hire a Klingon interpreter, is a departure from my Love & Baseball stories. I'm so excited to let my geek side frolic.
The blurb:
Some rules are meant to be broken. If only they could agree on which ones…
Faced with compliance of a ridiculous new Arizona law, by-the-book mental health care facility administrator Allyson Cunningham must find an interpreter who speaks a made-for-TV language. Prime candidate Donovan Marshall has the language skills she so desperately needs, but shows a disturbing disregard for all rules and restrictions. While Allyson struggles to secure another perfect rating for her facility, convince Donovan to conform and control her inappropriate attraction to an employee, Donovan makes it his prime directive to persuade starchy Ally it doesn't hurt to break a few rules.