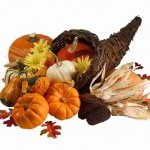 With today being a time to give thanks, I thought it'd be fun to reflect on some of the things I'm thankful  for in my writing life this year.
My Golden Heart final. Having "Beauty and the Ballplayer" final in the GH did more than open new doors. It introduced me to a group of supportive sisters. (Hi, Starcatchers! Even when you don't hear from me all that much, I treasure the time we spend chatting, whether it's on our loop or  Twitter.)
The chance to go to RWA Nationals in NYC. I learned a lot at the sessions I was able to attend, bought the CD so I can listen to the ones I had to miss and was inspired by more than one keynote speaker. My credit card didn't fare nearly so well, but that's another story.
Chatting with some of the authors whose books I've been reading, and loving, for years. That was a great experience, if a little surreal. Even greater? Realizing that they pull their pantyhose on one leg at a time, too. Wait — does anyone ever wear pantyhose anymore?
A great RWA chapter. The ladies of NARWA are cheerleaders, sounding boards and, above all, friends.
Finding not one, but two CPs. The relationships are still new, so we're feeling our way — but I'm hoping they'll lead to more success for all of us.
Time to write. Whether I'm writing alone or with chaptermates and other friends, I cherish time with my trusty iBook. (I am, however, ready and willing to upgrade to a new MacBook Pro as soon as I win the lottery … or sign a book deal that advances me enough cash to augment my paltry "buy a MacBook" savings account.)
Starbucks. You knew I couldn't leave the Bux off my "what I'm thankful for" list. I spend so much time there that all the baristas know me by name. I should probably count that as more curse than blessing, no?
Yes, my writing life has truly been blessed in 2011. Here's hoping 2012 will be just as great.