… No, not "Catching Up with Depeche Mode," although that disc had most of the essentials from DM's early years.
I'm talking about catching up with my busy, busy author self.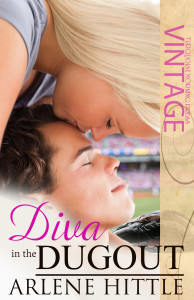 The days—has it really already been a month?—since DIVA IN THE DUGOUT's release have been a whirlwind. That's probably no surprise to anyone who's been there, done that with their debut novel … or any new book, really.
Since I'm not making enough to quit the day job (yet), I've been juggling a 40-hour work week with:
Finishing the first draft of still untitled Book 3 in my All Is Fair in Love & Baseball series. (Finished Oct. 30 and am about to start self-editing.)
Prepping BEAUTY AND THE BALLPLAYER for its March release. (Got edits from my TMP editor in late October and am about to shoot an updated MS back to her.)
Getting my holiday novella, HOME FOR THE HOLIDAYS, ready for its indie debut on Nov. 25. Edits courtesy of my former Daily Sun coworker, now a freelance editor, Heather Danielle Crabtree, and formatting by Marie Force's Formatting Fairies.
Being NARWA's president, with all the fun and worries that entails.
Promoting DIVA in as many ways as I can.
I bought a Facebook Flash ad on TheCheapEBook.com, stuffed DIVA bookmarks into books from some of my favorite authors at Barnes & Noble and Bookmans stores in Phoenix and have been making the rounds with guest blog posts.
In case you missed it:
I've been watching DIVA's Amazon bestsellers ranking closely. Not like a hawk, though I admit to checking it more often than I probably should, for my sanity's sake. It's been up and down, though it seems to be hanging tough right around 10K. You might have seen some of the posts on my Facebook author page.
For a brief, shining moment Wednesday night, it was at 6,800-something. (Yes, I took a screen shot … I'm nerdy that way.) Whatever magic bullet propelled it to that height on the Amazon Best Sellers list has since worn off, and it's back in the 10K-15K range.
Because I'll only have one stab at Best First Book (and because habits die hard), I decided just this week to enter DIVA in the RITAs. It's up against some stiff competition (like my friend Abigail Sharpe's WHO WANTS TO MARRY A COWBOY), but I figured what the heck. I'll only have one first book, so why not try?
You can't win if you don't play!
Disclosure: Book links in this post are Amazon Affiliate links. I'll make a few extra pennies if you use them to buy.