How's this for a manic Monday: I finally finished my taxes. Yes … #TaxesDone.
I've been putting it off for months, dreading the result. Fortunately, the experience wasn't as painful as I'd feared it would be. That was a relief.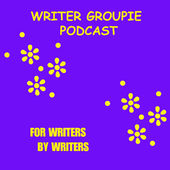 Another thing to chalk up in the "not as painful as I feared" category? Taping the Writer Groupie podcast with Kim Smith. Leading into Friday afternoon's appointment, I was both excited and fearful. Since it was my first podcast — I wasn't sure what to expect.
I shouldn't have worried. It was…So…Much…Fun. Sitting down to chat with Kim was like running into a long-lost friend.
There's always the chance I'll end up sounding like a chipmunk on helium when I listen to the podcast. I'm not alone in hating the sound of my own voice, I know. I used to DJ at my college radio station, WUEV, and with a  microphone in front of my face, my voice drops into a different register … one that had guys calling up to ask me out and/or say they listened to me in the shower. ("Do you know what that voice can do to a man in a shower?" Someone actually asked me that once.)
But Friday, I was just sitting in front of my computer — no microphone in sight. Oh well. At least I wasn't coming down with a cold when I talked with Kim. No, that came on Saturday afternoon, evening … and now I have a head full of congestion. Ugh.
Here's a link to the Writer Groupie Podcast on iTunes. My episode isn't up there yet, but it should be later this week. I'll keep you posted.
In other news:
— I added a "subscribe to my newsletter" pop-up box to my website's home page. It'll show up the first time you visit — but when you close it, it'll stay gone for 30 days. Of course, I'd love for you to sign up for my newsletter. (Pretty sure once you do that, the pop-up will go away forever.)
The newsletter is still a work in progress. Right now, it only comes out when I have a new release … but I'd like to start putting it out regularly — maybe once a quarter or once every two months.
Tags:Kim Smith, newsletter, podcast, taxes, Writer Groupie
Popular Posts

My first guest post: Keri Ford
May 23, 2012

Writer Wednesday: Madeline Martin
May 6, 2015

The Golden phone call
March 25, 2011