Welcome to the My Sexy Saturday blog hop. Can you believe this is Week 99? I haven't participated every week, but it's still nice to be nearing such an impressive milestone.
From the blog:
This week's theme is Keeping It Sexy and we're thinking about all the wonderful things that lovers do to and for each other. Think about those special vacations, those sexy beach or mountain homes or maybe it's just a fun day at the spa. Or taking a ride in the latest spaceship or seeing the home they've built together for the very first time. There are things that all lovers do to keep their love fresh, alive and inviting to each other. It's all those special sexy environments that we're talking about.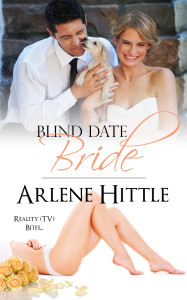 In honor of the theme, I'm going to share a quiet moment from BLIND DATE BRIDE.
Kari and Damien, the reluctant winners of Romance TV's "Get a Love Life" contest, have been "married" (really in name only at this point) for several weeks by this time. Damien recently learned that he'd have to accompany Kari on her pre-planned Alaskan vacation, which means he needs to get over his flight-phobia—fast. He asks his buddy, Cody, to take him up and imbibes in a bit too much liquid courage—and celebratory "I made it back to the ground in one piece" booze afterward … on the afternoon he's supposed to meet Kari's family. With some difficulty, Kari wrangles him into a shower to sober up and then goes to the kitchen, where Cody is making coffee.
Happy reading!
****
As she neared the closed bathroom door, she heard the water shut off. Wanting to give Damien plenty of time to wrap up in a towel, she counted to fifty before putting her hand on the knob and pushing the door open.
He wasn't wearing a towel. He wasn't wearing anything at all. Since their exploit in the Element had been in semi-darkness, this was the first time she'd gotten a good look at Damien in all his glory. And he was magnificent.
Kari gulped, wishing she'd counted to a hundred and fifty instead. She swallowed again, seeking to soothe her suddenly parched throat. Her hand shook, reminding her that she was holding Damien's industrial-sized vat of coffee. She stole a sip, certain that he wouldn't miss it from a mug that size.
Speaking of large …
No! Kari refused to let herself go there. Locking her eyes on his face, she stepped into the room, shut the door and held out the mug. "Cody thought you could use this."
He took it from her, and Kari felt a jolt as his fingers brushed hers. "Thanks. I'm already feeling more like myself."
"That's good, because we leave for my sister's in about fifteen minutes." She tried to ignore the electricity humming in the air between them, and the part of Damien that seemed happy to see her.
Find BLIND DATE BRIDE at Amazon, Barnes & Noble and Kobo, and in print at CreateSpace or Amazon.