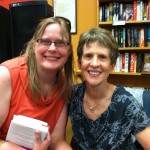 Pardon me if I still sound a little starstruck. It's because I am. I had the chance to meet Susan Elizabeth Phillips at a book signing in Phoenix on Monday night — and it was glorious.
She's on tour for her newest book, "The Great Escape," and she made a stop in the Valley … at Tempe's Changing Hands Bookstore, to be exact. When I got there, about five minutes before the event was scheduled to start, it was standing-room-only. Lucky for me, the Boyfriend scrounged up some extra chairs.
I believe Susan started off her talk by telling us her introduction as "fabulous" and "hilarious" was completely untrue. But she's wrong. I think both adjectives apply. So did the rest of the crowd, if the belly laughs are any indication.
As I listened to her spiel, I got the feeling she's a pantster, like me. She confirmed it when she signed my book. She also said she's going to be doing a plotting workshop at Nationals. I know where I'll be for that hour. (I just hope it's not at the same time as my editor/agent appointments. That would suck, big-time.)
She's definitely an inspiration, and I'm glad I had the chance to go. Normally, I'd be working on a Monday night, but this is Week One of my two-week vacation, which culminates with Nationals.
Even the Boyfriend said Susan was quite funny. I figured he'd go hang out at the bar next door, but he stayed and listened to the talk. (He didn't want to spend money.)
As we walked out of the bookstore, he said, "I could see you doing that."
Me? Captivate a crowd? I don't know about that. Not that I wouldn't love to, of course.
From his mouth to God's ears. I'd be blessed if I could have a writing career even half as successful as Susan's.