Posts Tagged 'cellphones'
Cellphone is one word now—at least according to the Associated Press. And since AP style is drilled into my head at the day job, one word it shall stay, even if it drives me up the wall.
The AP also recently changed style on under way. After two decades of swearing "under way" was two words in all uses except nautical ones—as in underway flotilla, whatever that is—it's cropping up in stories as "underway"—and … you guessed it … making me crazy.
Enough about AP style—or lack thereof. I wanted to talk about cellphones for a moment. Coconino County, where I live, recently passed a ban on most cellphone use while driving. (Hands-free devices are an exception.)
What's that you say? A great idea?
There was a time I'd have agreed with you. I remember when I got my first cellphone, circa Y2K. I swore I would NEVER talk and drive. I'd pull off the road to answer and/or make a call.
For a while, that's what I did. But as time passed, the phone's newness wore off and I developed new habits.
I found myself answering the ringing phone on the road. Then I started actually making calls from a moving vehicle. A few months ago, I caught myself checking the screen when I heard it beep with a text message. (I didn't answer it, just quickly read the preview on my lock screen—but even that made the Boyfriend yell. Like he never uses his phone while driving …)
Even worse, when I'm sitting at a stoplight, out comes the phone so I can scroll through tweets or Facebook posts … or take a quick peek at how well my latest release is doing on Amazon.
Hey now—I never said they were good habits.
They are, however, habits I'll have to curb—and fast. The county's ban takes effect in a few short weeks. Maybe I'll start keeping my purse in the back seat instead of the passenger seat. I'm just afraid that when it starts ringing, it'll drive me nuts.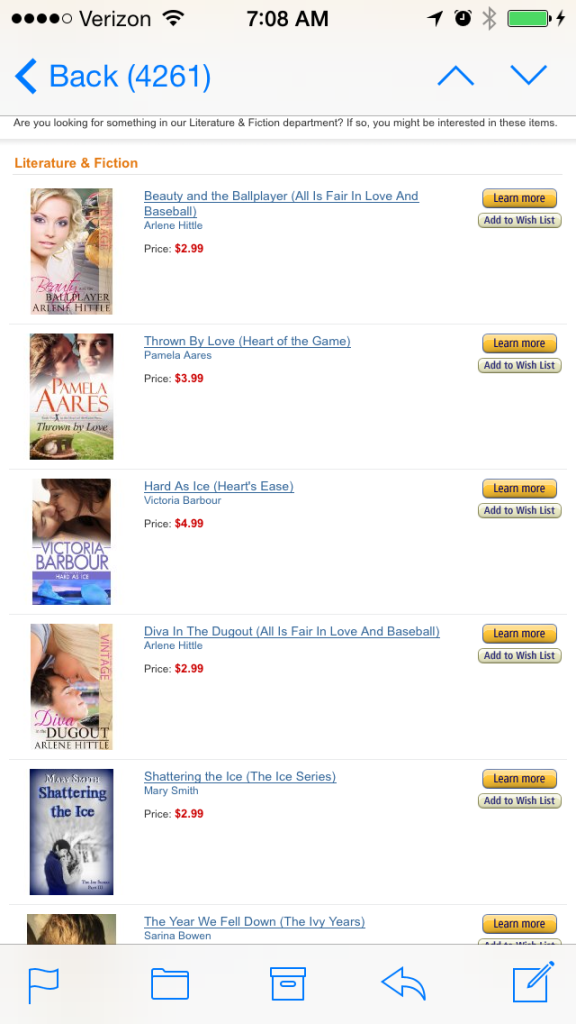 Speaking of Amazon, I woke up this morning (well before my alarm) to an email advertising not one but two of my books. Beauty is No. 1 on the list; Diva is No. 4.
I love it when Amazon advertises my own books to me. Hopefully it's an indication they're being pushed on other folks, too.
That's what I'm assuming, anyway, despite the well-known dangers about what happens when you assume.
SLIDING INTO HOME is getting its fair share of attention, too. Earlier this week, it received not one but two reviews on Amazon. One was a four-star, one was a five-star.
The highlights:
While reading this book I felt happy, I laughed out loud. One of my favorite quotes is " So help me, if you apologize for kissing me, I will stab you with the scissors that came with my new desk set." " I wouldn't dream of it." …
This is my first book by Arlene Hittle and it definitely will not be my last. It's a very fast paced story, I couldn't put it down. I read this book in less than one day! Arlene is a very talented author!!
— from a 5-star review by Bre
I really liked this book. It was funny and romantic and sexy. Greg struggles with all these emotions about his relationship with his father. He feels like he is always in his father's shadow and can't find a way to get out from underneath it. Jenn is sweet and really like Greg. She wants to find a way to help him. They have great chemistry. The book was very well written and the characters were engaging. I will defiantly be reading the other books in this series.
— from a 4-star review by badkat17us
Now when I pull up SLIDING's Amazon page, DIVA and BEAUTY pop up as "also-buys." Not too shabby, I'd say.

Your turn: Do you have any bad cellphone habits? How do you break yourself of them?