Posts Tagged 'NARWA'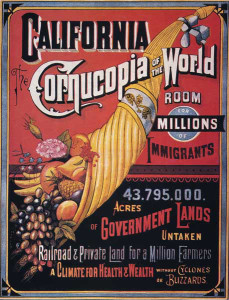 I have so many things to be thankful for in 2013, including discovering this cornucopia photo on Wikimedia Commons. I find old advertisements like this, described as a "propaganda poster to get immigrants to move to California" (circa 1876), fascinating. Did you note how California is "a climate for health and wealth, without CYCLONES or BLIZZARDS"?
Fun, eh? I love to pore through historic ads selling miracle cures or, more recently, claiming smoking is good for you.
Anyway, this is Thanksgiving Day, so I'm here to list the things for which I'm giving thanks. This is a special year for me, being newly published and all.
In no particular order:
— Thanks to the folks at Turquoise Morning Press for taking a chance on DIVA IN THE DUGOUT. It's been amazing working with such a talented group, and I look forward to getting Books 2 (BEAUTY AND THE BALLPLAYER) and 3 (still untitled) out next March and April, respectively.
— Thanks also to those who've helped me ready my first foray into indie publishing, HOME FOR THE HOLIDAYS. (It's not a terribly original title, by the way. There are about 100 pages of them on Amazon … I blame the Christmas carol, which is where I took inspiration for the title.) I couldn't have done it without my talented cover designer, Rogenna Brewer; former coworker and editor Dani Crabtree; and Marie Force's Formatting Fairies.
— Thanks to the Boyfriend for always believing in me, even when I have a tough time believing in myself. He's more excited about my first royalty check than I am … I think he thinks I'll suddenly be flush with cash, while I know better. I'm not going to disabuse him of the notion, though, because he gives me plenty of time to write.
— Thanks to the people who are buying DIVA  and HOME FOR THE HOLIDAYS, reading them and leaving reviews. HFTH just got its first 5-star review on Amazon. Among the highlights:
Short, sweet and punctuated with Ms. Hittle's trademark wit, it's the perfect length for a quick getaway when you can't handle another minute of the holiday rush.
And …
Grab a latte or a hot toddy and relax with Home for the Holidays. You won't be disappointed.
I'll take that high praise any day of the week (and twice on Sundays!).
— Thanks, too, to my fellow authors for their support and commiseration. I don't know where I'd be without the gals from NARWA; my Golden Heart sisters, the Starcatchers; and the LaLaLas. They're always around to bounce ideas off of, cheer me on and listen to me worry. They say writing is a solitary pursuit, and you need a strong support system. Thanks to these folks, I have one. They're all a phone call, text or email away.
— Thanks to my coworkers, who listen to me squeal with excitement (or groan in disappointment) whenever I check DIVA's Amazon sales ranking. Even if they don't really care, they do a good job of faking interest.
— Thanks to my web designer, Larissa, who put together this beautiful website. It's exactly what I wanted, but had no clue how to build for myself.
— Last, but certainly not least, thanks to Starbucks. Their drinks and pastries keep me going. Oh, the pastries … have you tried the new pecan tart yet? Mmmm …