Posts Tagged 'Overexposed'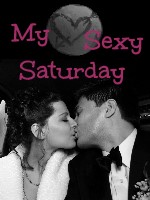 It's Saturday again — and this week, I don't feel like I've been dragged through a tar pit and then forced to go to prom without changing. My head is only mildly stuffy, not filled with snot, and I'm ready to rejoin the land of the living.
That means I'm back for the My Sexy Saturday blog hop. The rules are simple:
Post 7 paragraphs or 7 sentences or 7 words. The choice is yours. It can be from a WIP or something you already have published. Your post should be live by 9 am US Pacific Time on Saturday. Put those lucky 7s to work for you!
This week, I'm bringing you another booty-licious scene with my favorite hero, Mike James.
Aww, who am I kidding? I love all my heroes. That said, I'll always have a big, squishy soft spot in my heart for Mike. He's the first guy character I created, although it was quickly apparent he would NOT be Erin's hero. Not Mike. He wasn't right for Erin, no matter how much she wanted him to be. Persisted in thinking of her like the kid sister he never had. I realized he needed his own story, the happy ending he didn't believe he deserved.
And I proceeded to write him one. In OVEREXPOSED, faux bad-boy Mike gets his happily-ever-after, with the ultimate good girl — a 24-year-old virgin.
In this scene, he's about to relieve her of that condition. They're at a bar, across the street from the no-tell motel room they're being forced to share by a snowstorm. They've both had a bit too much to drink, and Bree is putting the moves on him (for what she believes at the time to be an excellent reason). Mike is trying desperately to resist her.
***
If I'm lucky, I'll get drunk enough to pass out before I can do something we'll both regret.
But as the minutes ticked by, and Breanne responded to every evasion by trying even harder, it became increasingly clear to Mike that resisting her advances wouldn't be easy. She obviously wanted him — and had for quite a while, if the hints she'd been dropping were to be believed. He desperately hoped her comments weren't the ravings of a drunken lunatic, because he wanted her, too. He sure as hell didn't deserve her, but he wanted her just the same. And if she felt the same way, there was nothing to stop them from fulfilling their mutual desire.
Nothing except your innate sense of decency.
And there it was: the elephant squatting on the barroom table. If he did take up with Bree now, he'd become the bad-boy playboy he was pretending to be to hold her, and every decent woman like her, at bay.
He'd never be able to live with himself then. Hell, he barely tolerated himself now.
Time to end this flirtation before it spiraled even farther out of control. Surely she'd balk if he flat-out propositioned her.
"It's late, Red," he said, scraping his knuckles over her denim-clad thigh. He stroked her thigh, getting dangerously close to the part of her that he ached to fill. "What do you say we get out of here and find something better to do with our time?"
Instead of pulling away, she practically purred and arched into his hand. "What'd you have in mind?"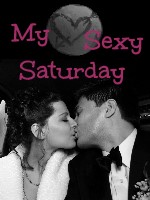 It's my favorite time of the week again: Time to share an excerpt for the My Sexy Saturday blog hop.
The rules, in case you've forgotten:
Post 7 paragraphs or 7 sentences or 7 words. The choice is yours. It can be from a WIP or something you already have published. Your post should be live by 9 am US Pacific Time on Saturday. Put those lucky 7s to work for you!
This week, I'm giving you seven paragraphs from the beginning of  OVEREXPOSED, the third book in my Women of Willow's Grove collection. This time, Mike James, the object of Erin's lust at the start of OPERATION SNAG MIKE BRAD (Book 1), finally gets the happy ending he doesn't believe he deserves.
Before he gets there, though, he has to go through a whole lot more torture and self-flagellation.
I've always liked Mike. He's pure figment of my imagination — but that's not to say my imagination wasn't sparked by a coworker. The guy was Greek-god-gorgeous, like Mike. Flirty and funny, too (also like Mike). Anything Mike does (or did … or didn't do) is all on me, though.
In this scene, heroine Breanne Garvey (photographer for the Willow's Grove Journal-Times), is at the tiny town's male strip joint for her roommate's bachelorette bash. She doesn't yet know that Mike, her coworker at the paper, moonlights there.
How much you want to bet she's about to find out? 😉
***
This "Masked Avenger" reminded her of Mike: Tall, blond and — behind his black Lone Ranger-type mask — chock-full of cuteness potential. The man had well-defined thighs, and when he turned around to shake his rear end in her face, she could see that it, too, was in perfect shape. And every inch of exposed skin was a nice, even golden color — the color of smooth clover honey.
Just like Mike's tan.
Suddenly the idea of flirting with this guy didn't seem nearly as far-fetched. She was only a virgin, not dead — and having Mike James dance for her was full of potential. Intriguing possibilities blossomed in her fertile brain … ideas a good girl would never act on.
No harm in looking, her inner rebel assured her.
For once, she listened. After all, it was likely the only chance she'd ever have to see Mike in the flesh. If he hadn't picked up on the "let's date" vibes she'd been sending him for the last year and a half, she doubted he ever would — although she'd never understand how a guy who loved women could be so darned oblivious to her hints.
Pretending it was her colleague in front of her, she dropped her hands so she could enjoy the view. She even went so far as to accept the bill Cassie waved under her nose. Why not have some fun? Cassie was right: She wasn't getting any younger.
But where do I put it?