Posts Tagged 'success'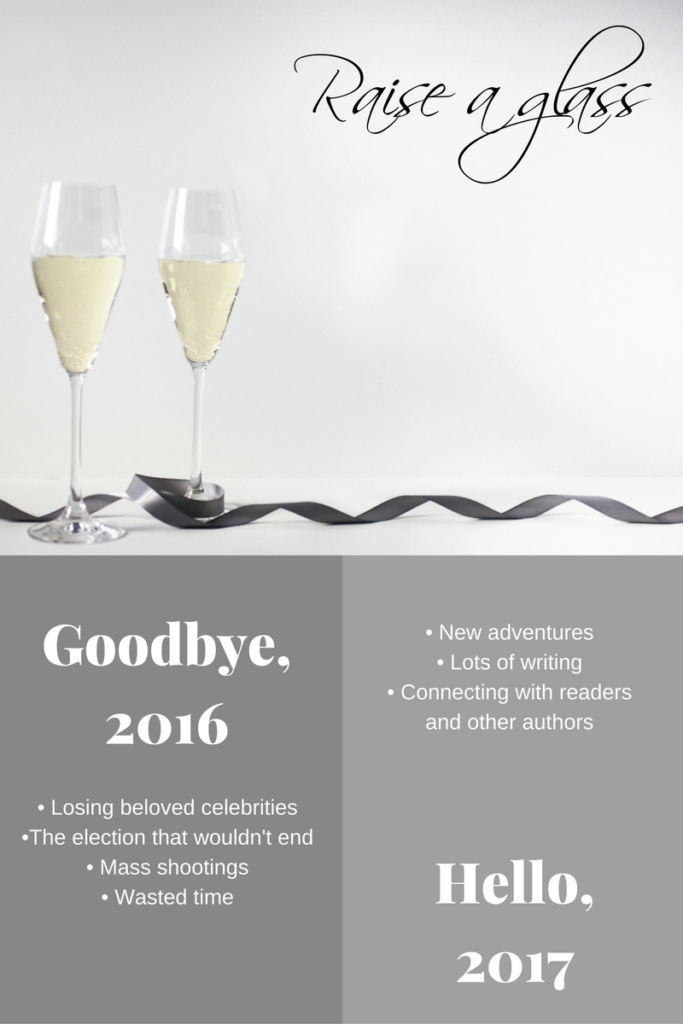 With the addition of Carrie Fisher, and her mother, Debbie Reynolds, to the list of celebrity deaths in its waning days, 2016 has thrown many of us for a loop. I can't help but wonder if this is the way it'll be from now on … more of my favorite stars, singers and authors kicking the bucket every year as I, too, get older.
It's been a pretty awful year, to be sure. Still, some good has to have come from 2016.
To remind myself of that, I took a look back at my stats for the year, conveniently compiled in Jamie Raintree's fantastic Writing & Revision Tracker spreadsheet. (Link goes to the 2017 version, which is well worth the $8.)
The great spreadsheet tells me that in 2016, I:
Wrote 36,795 words
Revised 444 pages
Is that all? Damn. Looking at those totals, 2016 HAS been a dumpster fire of mega proportions.
However, I also:
Published two category-length novels—Ogling the Outfielder and Stealing the Southpaw—and one short story—Baring It All
Discovered the Universal Book Link. (Thanks, Books2Read and Draft2Digital.)
Included Sliding into Home in a bundle with other baseball romances from Kate Curran, Jennifer Bernard, Kasey Michaels, Mindy Klasky and more. (GetThe All-Star Baseball Romance bundle on AMAZON | BARNES & NOBLE | KOBO | IBOOKS.)
Started sending monthly email newsletters (instead of sending one only when I have a new release)
Added 1K names to my email list (thanks to Ryan Zee)
Listened to countless podcasts on self-publishing, marketing and creativity.
Saw my two free short stories (Baring it All and Contempt of Love) hit 1 & 2 on Amazon's free Kindle Short Reads (12-21 pages) list. (This happened after I sent a newsletter to all my new Ryan Zee subscribers, highlighting the free shorts.)
Sold a respectable number of books. Not enough to quit the day job anytime soon, but that's okay. I continue to work toward that pie-in-the-sky goal.
I'm putting this out there now: Quitting the day job to write full-time is in my 10-year plan. I'm 45 now, so if I can get there by the time I hit 55, I'll be happy.
How about you? What are your New Year's goals? How about your 10-year plan?
Can I make a confession? I came to the NaNoWriMo party somewhat late. For the uninitiated, NaNo is the (some say crazy) push to write a 50,000-word novel in 30 days, from Nov. 1-30.
I joined the push for the first time in 2009, with the intent of writing about 40K to finish BLIND DATE BRIDE.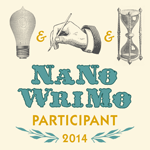 By the end of November, I'd only managed about 25K. I did, however, develop enough of a habit that I finished the first draft of BRIDE by the end of the year. Considering I'd started it back in 1999 or 2000, that was a major victory.
I decided to try NaNo again in 2010. That year, I started a brand-new novel—but I'd done some (okay, a lot of) pre-planning. I ended up writing 53K in 27 days. Yep. With a map of my story, I finished three days early.
In 2011, I joined the good fight with a vague idea for BREAKING ALL THE RULES (which will be a TMP release next spring). There were some rough patches and I thought about giving up. In the end, I spent eight hours in a chair at Starbucks Nov. 30, barely breaking 50K before it was time to go to work and put in another eight-plus hours.
In 2012, I had two wins under my belt, giving me the false impression that NaNo would be a piece of cake. I planned to get a good start on a single title story—50K of about 90K total.
Uh…yeah. Didn't happen. My excuse: I'd just finished the draft of HOME FOR THE HOLIDAYS, and couldn't muster up enough oomph to write at breakneck speed for 3o more days.
In 2013, I didn't even bother to sign up. I spent the six or so weeks prior to Nov. 1 writing the first draft of SLIDING INTO HOME, and knew from past experience that I'd be too drained to keep up the pace.
This year, I'm giving it another go, with the same single-title story I couldn't get going in 2012. It's a romantic comedy, of course. That's what I write, after all. This time, though, there are paranormal elements.
Okay, the book's only paranormal element is its ghost. The ghost is not a love interest, though. He merely meddles in the heroine's life, having decided his mission is to help her get the happy ending that eluded him and his lady love so many generations ago.
I got the spark of an idea from Concrete Blonde's song, "Ghost of a Texas Ladies' Man." I was walking through my neighborhood (back when I did that more regularly than I do now) and it came up on my iPhone.
"Wouldn't it be fun to write a story about the ghost of a Texas ladies' man?" I asked no one in particular.
And a story started to take shape in my mind. I thought I'd have no trouble writing it, because I pounded out a 3,000-word backstory for the ghost in an evening. The heroine was easy, too. Unfortunately, I could not come up with a good hero.
That problem has been resolved (I hope), and I'm excited to kick off NaNo on Saturday. Who's with me?
If you're joining in the fun, you might be interested in this blog post from Nathan Bransford. It promises "everything you need" for NaNoWriMo.
Four days after signing a contract for DIVA IN THE DUGOUT, I'm still riding the high that comes with a first sale. But in the quieter moments (read: when I'm not jumping like a maniac and talking 3,000 miles a minute), I find myself wondering: What just happened here?
Yes, I've been working hard — writing new stuff, revising stories that still need help and, perhaps most importantly, opening myself up for rejection by putting my babies out there.
I'd also decided — not so long ago — to take the plunge into indie publishing. I signed up for a self-publishing class online. I hired a web designer and started working with a cover artist. I lined up an editor for HOME FOR THE HOLIDAYS and sent OPERATION SNAG MIKE BRAD out to several readers.
Of course, I hadn't completely given up on a more traditional path. After all, so many folks these days are doing both. Last Monday, I entered Bree and Mike's story, OVEREXPOSED, in the Golden Pen. The goal was to get feedback to better prep the entry for GH2014. (I wasn't satisfied with its 2013 scores, even though it landed in the top quarter. I wanted another GH final under my belt.)
But I no longer hung all my hopes on landing an agent/finaling in a contest/selling my book to a publisher. I opted to take my career into my own hands.
Funny how life works, isn't it? My book deal found me only after I stopped looking for it.
The day after I entered the Golden Pen, I got the email from Turquoise Morning Press; on Thursday, I inked the deal. (I believe that makes me ineligible for the next Golden Heart competition. Correct me if I'm wrong, please. I hate to have wasted an entry fee.)
Did anyone get the license plate number of whatever sent me spinning in a completely different direction?
Is it simply that, as Depeche Mode says, "God has a sick sense of humor"? Or is something else at work?
They — whoever "they" are — say that love finds you when you least expect it. Does the same principle apply to book deals?
Maybe.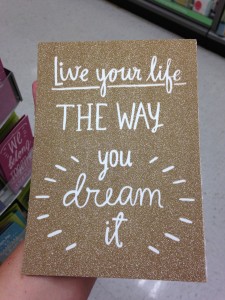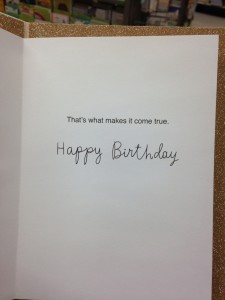 Or maybe there's something to visualization, to the principle of "acting as if." That's what these cards I found at Target the other day seem to suggest.
I also have some personal experience with visualization.
Back in late 2010/early 2011, as part of my ongoing weight-loss journey, I hooked up with a life coach. Among the things Jenn and I did was create a vision of the future me.
After chatting with me about my goals, Jenn emailed me this paragraph for me to consider:
I see a woman who is confident. She is glowing with happiness, she is vibrant. I see a woman who is fit, she is active, she enjoys the outdoors with her dogs and she practices regular yoga. She is lighter, she may even be at her goal weight! I see a woman who enjoys food. Food has lost it's power over her. She is excited about her future as a writer. She is independent and she believes in herself. I see a woman who is a writing finalist, carrying a new MacBook. I see a woman who is a traveler. She is surrounded by people who love and support her, and she is connected with her family.
As best I could, I took our vision to heart and acted as if I'd already achieved the success I sought.
And guess what?
The fit, active yoga devotee is still mere pipe dream. Most days, I'd rather veg on the couch … or in a chair at Starbucks. The part about food losing its power over me hasn't materialized yet, either, though I wish it would.
But the part about writing that I highlighted in purple? Spot-on.
I did become a Golden Heart finalist a few months later (and found out I'd won the Beacon on the very same day). I've also gotten not one but TWO new laptops since then. (Okay, the first one was reconditioned … but the current one is all mine. Never-been-owned, fresh out of the box — and I love it, even if I'll be paying for it for a long, long time.)
While I can't say for sure how big a role our visualization played in my success, it does make me wonder. Perhaps I should start imagining myself as a fit, active yoga lover who doesn't let food control her.
It's worth a shot, right?