Posts Tagged 'Unforgettable Heroes'
Turquoise Morning Press' Unforgettable Heroes II boxed set will be available soon, and I'm excited to be a part of it. BEAUTY AND THE BALLPLAYER is among the 13 fantastic books you'll get for the super-low introductory price of 99 cents (through August).
After Sept. 1, the price shoots up to $6.99. If you ask me, that's still a bargain for 13 hunky heroes you won't want to forget—but everyone loves a sale, so preorder your copy now.
Here are all the details:
Pre-order Date – Available Now!
Release Date: August 25, 2015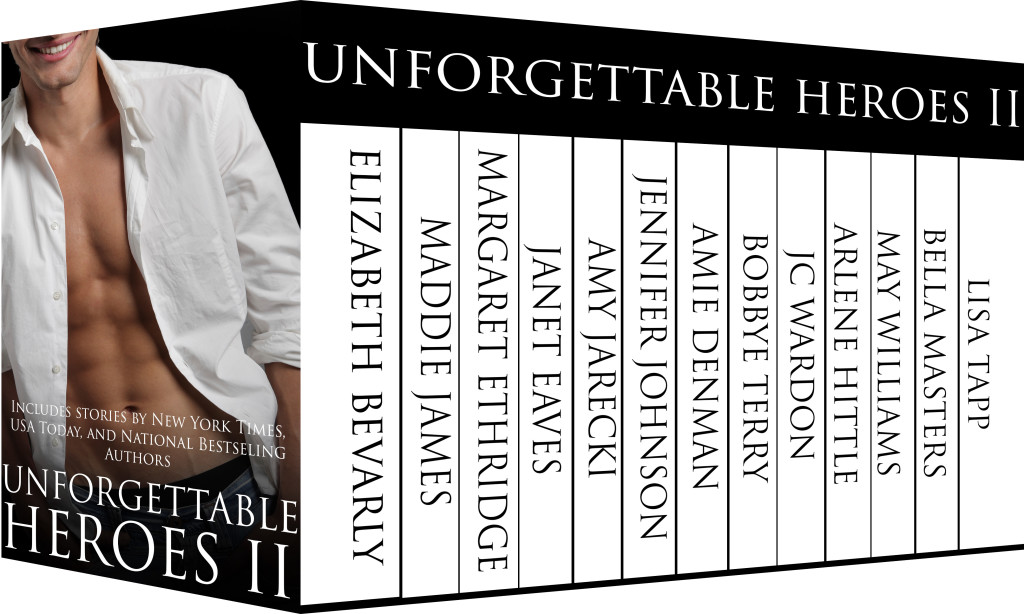 ISBN: 978-1-62237-423-6
Heat Level: This 13 book set contains stories from sweet to erotic romance
Price Promotion: $0.99 for pre-order period through release week
Retail Price: $6.99 after September 1
Media > Books > Fiction > Romance Novels
Keywords & Themes: romance, heroes, Alpha, contemporary, historical, comedy, cowboys, suspense, paranormal, sweet romance, erotic romance, beach, older couple, ninja, warrior
AMAZON | IBOOKS | BARNES & NOBLE | KOBO | SMASHWORDS
13 NATIONAL BESTSELLING AND AWARD-WINNING AUTHORS deliver romance fiction featuring incredible, unforgettable romance heroes. This set runs the gamut from contemporary to historical romance, sweet romance to erotic, suspense to paranormal, and includes baseball players, cowboys, Celtic warriors, and more….
UP CLOSE – ELIZABETH BEVARLY is the New York Times bestselling, RITA Award-nominated author of more than seventy novels and novellas. Up Close is the perfect beach read, blending adventure and intrigue with romance and sensuality, peppered with the author's signature humor.
PARKER: THE MONTANA MCKENNAS, (Book 4) – MADDIE JAMES is an International bestselling author of more than thirty romance novels and novellas. Parker, is her latest release in the Montana McKennas western romance series.
SPRING CHICKENS – MARGARET ETHRIDGE is a National bestselling author, contemporary romance fan favorite, and TMP top-selling author. Her second chance at love story, Spring Chickens, is a romance that defies the ageists!
CRESCENT MOON – JANET EAVES is a National bestselling author of the Ladies of Legend series of books. Crescent Moon, a Legend After Dark novella, takes the townsfolk of quiet Legend, TN on a bit of a different spin. It's still Legend, only darker.
RESCUED BY THE CELTIC WARRIOR – AMY JARECKI is a National bestselling author of more than ten Scottish historical romance novels. Rescued by the Celtic Warrior is a Night Owl Reviews Top Pick.
SCENT OF A SHADOW – JENNIFER JOHNSON is a National bestselling author of contemporary romance and women's fiction. Scent of a Shadow, features a man making his living by hiding in the shadows, and a divorced mother of three, who finds him.
THE GULL MOTEL – AMIE DENMAN is an EPIC Award and Gayle Wilson Award of Excellence finalist for her books. The Gull Motel, a beach read about a young woman who takes over a small Florida motel and falls for the man next door, earned a 4-star review from RT Bookreviews.
NICK OF TIME – BOBBYE TERRY is a Daphne du Maurier Award for Excellence finalist in Mystery/Suspense, and a National bestselling author. Nick of Time is a Climax, Virginia novel of suspense, intrigue and romance.
DIAMOND IN THE ROUGH – JC WARDON is the author of the thirteen-book Mystic Waters series, called a "series to watch" by her publisher. Diamond in the Rough, is book 6 of the Cavanaugh Family series.
BEAUTY AND THE BALLPLAYER – ARLENE HITTLE is the author of seven contemporary romance novels and novellas. Beauty and the Ballplayer is a 2011 Golden Heart finalist and winner of the First Coast RWA unpublished Beacon.
RIVETING HIS ATTENTION – MAY WILLIAMS is the author of historical romance, Riveting His Attention, which has been called "fun and flirty" and "adorable" by her fans. May writes both contemporary and historical romance.
CORPORATE COWBOY – BELLA MASTERS is the erotic romance pen name of International bestselling author Maddie James. Corporate Cowboy, an All Romance Ebooks bestseller, received a favorable 4 Star Review from RT Bookreviews.
RUNNING NOWHERE – LISA TAPP is the author of Maggie Award Finalist, Finding Beth, the first title in her Young Adult Ro Davis Series. Her book Running Nowhere, part of the contemporary romantic suspense Maystown Series, was the Romantic Suspense winner of the Hot Prospect Contest and was named a finalist in the Daphne du Maurier Award for Excellence in Mystery and Suspense.
Website: http://www.turquoisemorningpress.com
Facebook: https://www.facebook.com/TurquoiseMorningPress
Twitter: https://twitter.com/turquoisemorn