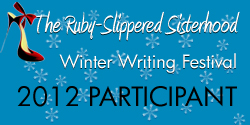 The big day's finally here: The start of the Ruby Slippered Sisterhood Winter Writing Festival.
It crept up on me so quickly that I didn't have as much time as I'd hoped to craft my goals — so I'm going to build on last year's list. With a few modifications, it'll work again.
Here's the quick and dirty list:
Write at least 500 words on WIP OR
Edit at least 10 pages OR
BICHOK (butt in chair, hands on keyboard) for at least 30 minutes without Internet distractions OR
Craft winning query letter for one of my two 2012 GH entries (so I can be ready if I final again) OR
Read/give feedback to CP OR
Find a contest to enter and prep entry OR
Read one article in one of the many unread issues of RWR I have on file OR
Write a blog post of at least 150 words for my writing blog, Love & Laughter. Posts for the weight loss blog don't count. OR
Read one of the GH entries I just received for judging OR
Pay my RWA dues. They're due by Feb. 28 at the latest OR
Register for RWA National Conference OR
Get a massage. (If I could afford to do this one once a week, I would — but it'll more likely be once during the entire festival.)
They seem like simple goals, I know — but I'm setting myself up for success. If I can't make time to do one (or more) of those things each day, I'd better give up on writing.
What is my WIP, you ask? That's a very good question. I still seem to be suffering from the story ADD I developed last March.
Currently, I'm expanding/editing Brad & Erin's story with an eye to a specific submission. I also have plans to add to Dave & Melinda's story, which is right at 50K now. Eventually, I want to get back to Beth & Cody, too — I only had about 20K left to write when I got derailed. Surely Beth has some redeeming qualities (though the Golden Pen judges were doubtful). And then there's my NaNo novel starring Van and Allyson. I finished the 50K rough draft, but it needs major help.
See? Story ADD.
Guess with no shortage of projects, I'll always have something to do! I'm ready to get down to work and have some fun. See you at the RSS.