Archive for the 'NaNoWriMo 11' Category
Had you asked me last week whether I was going to win NaNoWriMo this year, I'd have laughed — most likely right in your face.
With two entries for the 2012 Golden Heart competition to polish, I'd pretty much written off finishing NaNo. When I popped my last GH entry in the mail on Monday, I had 15,000 words left to write and three days in which to do it.
And here's where that old power of persistence kicked in. I didn't want to fail. I had Monday off, so I spent most of it at Starbucks, writing away — and then did some late-night word sprints with the Power Writing Hour Facebook group I belong to. On Tuesday, I did as much writing as I could until it was time to go to work … And on Wednesday, after working until 11:30 p.m. Tuesday and then sprinting until 12:30 a.m. or so, I hauled myself out of bed at 8 a.m. so I could put in a full day at Starbucks before heading to work.
The persistence paid off. At about 3:15 p.m. Wednesday, I crossed the finish line with 50,094 words. (Yeah, I was supposed to be at work by 3 p.m. — but I was too close to give up. Lucky for me, my hours are somewhat flexible.) The NaNo validator came in slightly lower, at 50,016 … but still enough to declare me a winner.

Finishing something I wasn't sure I'd be able to do felt great. I have to give shout-outs to Jamie Raintree and Anne Marie Becker, my writing buddies who wouldn't let me give up. (They both hit 50K, too.) My new Power Writing Hour friends helped, too.
Another shout-out to the new CPs who helped me whip those GH entries into shape. I received confirmation just this morning that the second of two was received — so all that's left is to wait …
And to keep writing, of course. I already have a new challenge in my sights: Harlequin's So You Think You Can Write contest. Its mid-December deadline is creeping up fast.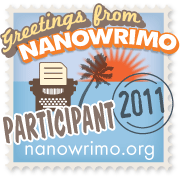 I'm pretty sure pre-planning was the reason I powered through 53,000 words in 30 days in 2010.
So as much as I hate to sit down and "plot," I spent part of the weekend doing exactly that.
I've had the idea for this story for a while, ever since reading a story about a state legislature (I think it was in Oregon) that passed a law saying health care facilities needed to hire an interpreter for any language a patient spoke — including Klingon.
My first thought was: Wouldn't it be funny for an uptight health care administrator to be forced to hire a Klingon interpreter? Melissa and Donovan were born. (Except I had to change her name to Allyson because I just finished writing a heroine named Melinda and didn't want to get the two confused.)
Allyson — don't dare call her Ally — is the uptight health care administrator; Donovan "Van" is the laid-back, happy-go-lucky guy who taught himself Klingon one long, boring summer. While she tries to get him to follow the rules, he makes it his project to get her to loosen up.
I'll be trying something new with this MS — Scrivener. I downloaded the free trial Saturday and started playing around with it. Looks like it'll be interesting.
I'd like to be able to say that won't be around as much this next month while I immerse myself in the craziness that is NaNoWriMo. But considering how little blogging I've been doing lately, I don't need to say it. Once or twice a month is already "not around much."
So I'll just say "sayonara" for now. After a month of writing dangerously, I'll see you on the flip side — with a brand-new manuscript for editing/submission.