Archive for the 'Bethany & Cody' Category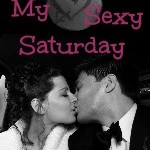 It's Saturday, and you know what that means: Time for another sizzling trip down desire lane with the My Sexy Saturday blog hop.
The rules are simple:
Post 7 paragraphs or 7 sentences or 7 words. The choice is yours. It can be from a WIP or something you already have published. Your post should be live by 9 am US Pacific Time on Saturday. Put those lucky 7s to work for you!
Today, I'm sharing something a little different. This excerpt is from TROUBLE IN PARADISE, the WIP I'm having trouble finishing at the moment. It's not the sexiest moment in my manuscript, but it cracks me up every time — and I feel the need to laugh this week.
Bethany and Cody, the heroine and hero in said WIP, might be giving me fits, but that doesn't mean I don't love them both.
You might remember Beth and Cody as the best friends from BLIND DATE BRIDE — the ones that got more wedding-night action than the bride and groom.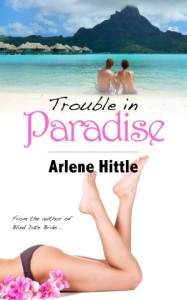 TROUBLE IN PARADISE picks up nine months after BRIDE leaves off. Bethany, worried Cody might be losing interest, wants him to apply for another Romance TV show, "Invitation to Sin." Cody is firmly anti-reality-TV after seeing what his buddy went through, but agrees to apply because he figures they won't get picked for the show — no way will Romance TV lightning strike their circle twice.
Except it does, and soon Beth and Cody find themselves on Bora Bora with a TV production crew and a pack of other contestants, fighting to not only win the grand prize but hold together their previously solid relationship.
In this scene, Beth and Cody have gathered with the other contestants at Romance TV HQ for a meet-and-greet reception.
***
Cody munched on pineapple and mango chunks and sipped the punch. He hoped there wasn't any alcohol in it, because it tasted vaguely pina colada-ish. Then again, he didn't have to drive, so what was he worried about? He took another gulp. Beside him, Bethany sipped her drink, too. Suddenly, she spit it back into her cup and started coughing.
He put his drink down. "You okay, sweetheart?"
Clearly not okay, she shook her head. Her face was redder than the cherry on top of the chocolate and whipped cream cookie he'd picked up for her. When she stopped coughing, she whispered, "Did you get a good look at the ice cubes?"
"No."
"Why don't you do that?"
Puzzled, he picked up his glass again and studied the ice — cubes shaped like penises and breasts. Come to think of it, that cherry-topped cookie looked like a boob, too.
He looked back at the table of refreshments, seeing it for the first time for the work of "art" it was undoubtedly intended to be. Things were arranged to resemble … well, hell. The spread looked just like a woman's spread legs, with the cookies in the center, spilling sweetness into the vast, empty middle.
"Trouble in Paradise," coming in Fall 2014.