It's Saturday … and for the first time in weeks, I'm NOT in the middle of packing and/or moving. That means I have time to put up a post. Hooray!
Hard to believe this is week 91 for My Sexy Saturday. Can't say I've participated every week, but I do what I can.
I'm not sure I have anything that fits this week's theme, so instead I'll serve up a sexy moment from a work in progress. Bethany and Cody — the couple who got more wedding night action than the bride and groom — are back TROUBLE IN PARADISE, the second of my "Reality (TV) Bites" books.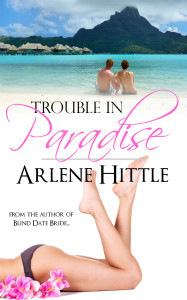 In this scene, Beth and Cody are getting ready to film a video essay application for Romance TV's new show, "Invitation to Sin." Beth wants to test their relationship because she's worried Cody's getting bored; Cody reluctantly agrees to apply because he figures there's no way in hell they'll be picked. Romance TV lightning won't strike their circle twice, right?
***
Cody sauntered into the room a few minutes later, wearing his new green and orange swim trunks and a big grin. He pointed at his pale white chest, then at Bethany's equally pasty midriff. "Think we ought to do some self-tanning first?"
Bethany giggled. "Are you kidding? Pasty white skin will be the Romance TV execs' first clue that we need this trip more than anyone."
"Where do you want me, then?"
She waved at the chair. "You sit there, and I'll sit in your lap." When he didn't move, she shot him an impatient look. "What are you waiting for?"
"You think it's such a good idea for you to be wiggling around on my lap when we're both wearing next to nothing? This video is for Romance TV, not the Porn Network."
Bethany stifled another giggle so she could answer him with a straight face. "Don't worry. I won't blow your cover."
When she saw the mischief dancing in his golden-brown eyes, she knew she'd just opened herself up for a doozy of a comeback. She held her breath until he delivered it. "Sweetheart, you can blow whatever you want."
TROUBLE IN PARADISE, an indie release, is coming soon … hopefully this fall.