RWA14 was a blast—not that I doubted it would be. For me, it was a true road trip. Two of my chapter mates and I carpooled from Flagstaff to San Antonio (more on that soon). I caught up with friends old and new, and learned so much from the workshop sessions I attended. I went to so many marketing/social media sessions that my head threatened to explode.
One of the key points emphasized in many of them? You need a blog.
Umm … Does it count if I have a blog but post sporadically?
The experts' answer, of course, is a big, fat "NO."
So now that I'm back in Flagstaff, trying to resettle into what passes for a normal routine, I'm going to aim to blog more regularly. (How is it possible that my last post was in mid-June?) Blogging is heaped on top of all the Twitter/FB/Pinteresting things I should be doing—and none of them are as important as actually writing the next book.
Anyway …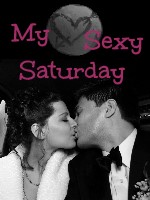 It occurred to me that My Sexy Saturday is a great way to guarantee I post something fresh on my blog every week.
A quick refresher on the rules:
Post 7 paragraphs or 7 sentences or 7 words ONLY. The choice is yours. It can be from a WIP or something you already have published. Your post should be live by 9 am US Pacific Time on Saturday. Put those lucky 7s to work for you!
Here's a snippet from my June release, BLIND DATE BRIDE. Who needs "Married at First Sight" when you have Kari and Damien?
***
Damien leaned across the table, and for a second, Kari thought he'd kiss her again. Her lips parted in anticipation. However, he merely turned her hand over, palm up, and ran his thumb over the skin at the base of her fingers. She watched it move back and forth, fast then slow, fascinated by the friction-generated heat.
His eyes never left hers, so she saw the instant his desire flickered back to life. Her thighs clenched as her body answered Damien's call.
The dampness she felt provided a rude wake-up call. She clamped her knees together as she jerked her hand out of his grasp, ruthlessly reminding herself how badly her last run-in with lust at first sight had ended.
Seemingly undeterred, he grinned. "You ready to head to my place?"
"Y-your place?" Surely he wasn't a mind reader.
"Or yours, I suppose."
"My place?" This time, Kari's voice came out in a panicked squeak.
Blind Date Bride is available now as an e-book at Amazon, Barnes & Noble and Kobo, and in print at CreateSpace or Amazon.