Posts Tagged 'My Sexy Saturday'

Long time no blog, eh?
I'm on vacation from the day job this week, so I have nothing but time to do all the things I want to do more often—and that includes jumping into this week's My Sexy Saturday blog hop.
This week's theme is "My Sexy Reunion"—and I can think of no more appropriate reunion than that of Dave and Melinda in Diva in the Dugout. Here, they renew their carnal acquaintance five years after a one-night stand made them parents—a fact of which Dave remains unaware for nearly five years.
Enjoy!
***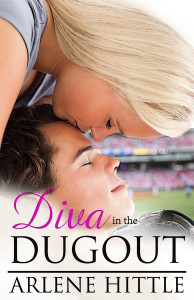 "Mom knew me better than I knew myself, because I was already on my way to life in the slow lane. Another woman changed me, Mel." His voice dropped. The gentle stroke of his thumb against her cheek fluttered her already-faltering heartbeat. "I never forgot the blonde bombshell who left me in the middle of the night."
The husky declaration melted her last shreds of resistance. If he truly had never forgotten her, maybe they could have a happily-ever-after like her parents. Mel wanted so much to believe that. She needed to believe. She leaned into his caress, then closed the gap between them and brushed her lips to his.
Strong fingers threaded through her hair, and he deepened the kiss. Memories rushed back, memories of how strong she'd been all those years ago. How fearless. How easily they fit together, like two halves of one whole. So hot—and so right.
She wanted that again.
A whimper escaped from deep within her. From a place only one man—this man—had ever touched. Dave's tongue stilled.
"Don't stop now," she murmured.
Mischief danced in his eyes. "I wasn't planning to." In one smooth motion, he slid one hand under her blouse and undid her bra.
Diva in theDugout is available at all major e-retailers. This handy universal link will take you to your choice of the Big Four, Amazon, Barnes & Noble, Kobo and iBooks.