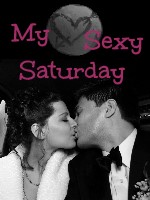 It's Saturday — and you know what that means. That's right. Time for another visit to Sizzletown in the My Sexy Saturday blog hop.
My entry this week is again from "Home for the Holidays," the novella I'll be releasing this fall. The setup: Cher and Derrick have recently escaped the crowd that gathered when someone recognized Cher in Chicago. They've stopped for Chicago dogs at a dive in Jeffriesburg, Ind., on the way back to Langley.
"I hate to tell you this, your diva-ness, but that hat-and-sunglasses disguise doesn't render you invisible."
Her giggle filled the space in the car with warmth and bright light. "Just incognito."
"If you say so."
"I do." With that, Cher pushed open the car door and exited the vehicle.
Enjoying how her jeans hugged her curves, Derrick remained seated. He watched her sweet backside until she turned and stuck her head back in the car.
"What are you waiting for?" She raised her sunglasses to look at him, no doubt so he couldn't miss her narrowed eyes.
"Nothing." Oh, how he loved Cher's quick temper. Smiling to himself, Derrick shook off the reverie and followed her into the restaurant.
Coming to ebookstores near you in November 2013.