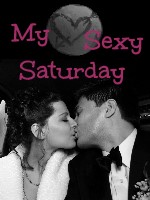 Yes, I went there. Again. If you forgave me the first time, you can do it again, right?
It's time for another My Sexy Saturday blog hop. For those of you playing along for the first time, here are the rules:
Post 7 paragraphs or 7 sentences or 7 words. The choice is yours. It can be from a WIP or something you already have published. Your post should be live by 9 am US Pacific Time on Saturday. Put those lucky 7s to work for you!
This week, I promised a hot scene between Erin and Brad. They're the heroine and hero of the first manuscript I completed, the one that wouldn't recognize itself if it bumped into its first draft in a dark alley — or in a brightly lit corridor, for that matter.
Erin is an education reporter for the Willow's Grove Journal-Times; Brad is a social studies teacher at the school she's investigating (with sportswriter/male stripper Mike James) for giving athletes inflated grades. Erin prides herself on not being superstitious — she goes so far as to go out of her way to walk under ladders. But she wonders if she's jinxed herself to be perpetually unlucky in love.
In this scene, toward the end of the book, Brad has just learned about Erin's investigation and asks to see her notes — a request she denies, citing freedom of the press.
Sometimes, there's nothing hotter than a good argument …
***
"I'm familiar with freedom of the press." Brad's hand waved impatiently. "I teach government, remember?"
Erin spoke through clenched teeth. Why did he insist on being so obtuse? "Then you should understand why I can't share my findings. I shouldn't be discussing the story with you at all before it goes to press."
He buried his face in his hands. Seconds ticked by, and when he looked up, all traces of warmth in his eyes had vanished. "Just tell me one thing: Are you sleeping with anyone else to get access to their grade book, or just me?"
The question hit her like a punch to the stomach, flattening her hard-won self esteem with one blow. As her surroundings dimmed, all the breath whooshed from her body. "You can't be serious."
"As a heart attack. You've obviously been cozying up to me so you can snoop through my stuff."
No. He didn't — couldn't — mean it. She refused to believe he could even consider such a thing.
But the look in his eyes told her he clearly did. She ran her tongue over her lips as she gathered what was left of her self-respect, pulling it close as if it could keep her heart from splintering. "If that's how you feel, maybe you should go."