In case you missed the good news on Facebook, I signed another contract today. And this time, it was a multi-book contract.
That's right: I sold not one but two more books in my baseball series, tentatively titled "All's Fair in Love & Baseball," to Turquoise Morning Press.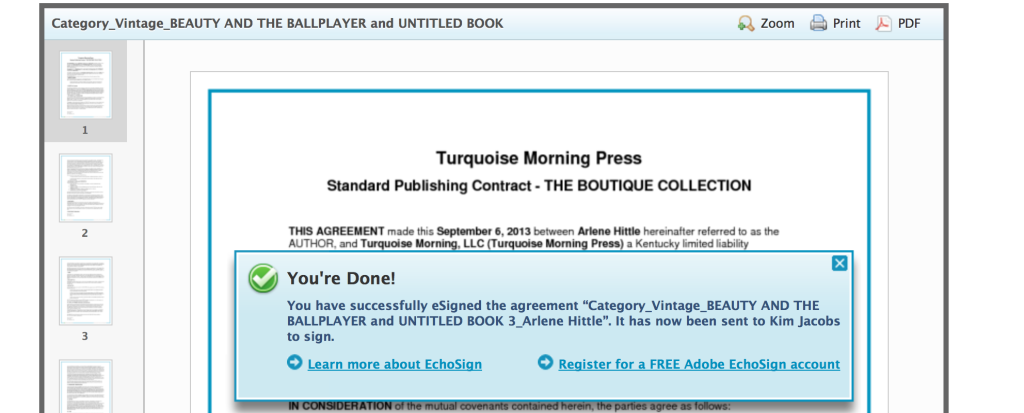 They sent me an email earlier in the week about wanting to offer me a contract for BEAUTY AND THE BALLPLAYER, my 2011 Golden Heart finalist. And when I responded "Absolutely, positively yes, I accept," I also mentioned that I'd begun writing Book 3 in the series. I said it was still in the early stages, and as-yet untitled, but gave a quick rundown of the premise …
It's the first baseman's story — spoiled second-generation ballplayer trying to outrun his father's long shadow. The heroine is his lawyer, whom he thinks is the exotic dancer he got busted for trying to defend. (The dancer's her twin sister, though.)
— From my email
… And they loved the premise enough to pick it up sight unseen.
Gulp.
That's both marvelous and frightening, since I've only got a few thousand words down right now. But I have a week-plus of vacation starting next Thursday, and I intend to get at least the bones of the story down while I'm off.
It's probably a good thing I didn't mention Book 4, since it's not more than mere glimmer in my eye: I see an injured pitcher falling for his physical therapist … I have no idea how he got injured, though, and no clear idea of the heroine.
Soon, there'll be three books of mine running free in the published world. Plus my indie-pubbed holiday novella … I'd better get back to work!