Posts Tagged 'Check-in'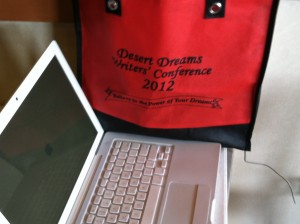 My first Desert Dreams Conference won't be my last.
It's over now, and I just settled into my favorite spot at the Starbucks in Camp Verde (near the outlet, naturally). The plan is to sneak in a little writing time before I crash.
Am I nuts? Why not skip the attempt to work and crash right away? How much will I really get done?
Of course I'm nuts. Aren't all writers a little off-kilter? The thing is, even though I'm physically exhausted, my mind is racing. I have thoughts I need to get down before I forget every last one of them. Plus, I have a synopsis I need to rewrite — and fast — so I can ship requested material.
Every day of the conference was jam-packed with learning, laughter and inspiration.
Here are a few of the gems I walked away with from the weekend:
— Never talk badly about yourself. There are enough other people willing to do that for you. (Bob Mayer, Friday afternoon workshop)
— All writers wrestle with self-doubt. To reach your goals, you have to slay the doubt demons. (Allison Brennan, Saturday keynote speech)
— The way you structure your writing space can help your subconscious mind — and your muse — realize it's time to work. (Tawny Weber, Saturday workshop)
— Not every sex scene needs to be mind-blowingly perfect. In real life, first times are often awkward. (Elizabeth Hoyt, Saturday workshop)
— In both dialogue and description, word choices set the mood and will vary depending on the character doing the speaking/observing. (Laurie Schnebly Campbell, Saturday workshop)
— Don't give away all the details about a character's backstory at once. Curiosity about why a character is doing what he's doing pulls the reader into the story. (Martha Alderson, Sunday workshop)
There was so much fantastic information to be gleaned from the presentations that I'll never remember it all. The conference center hotel was great, with a gorgeous courtyard and two pools. (Next time, I'll remember to pack a bathing suit.) Late April is the perfect time to be in Phoenix, because it's not yet hot enough to fry an egg on the sidewalk.
The conference couldn't have come at a better time, either. My Golden Heart score sheets came back on Friday and one of my two entries earned not one but two 3s. Ouch.
Luckily, I had plenty of positive support from my chaptermates who were also at the conference. Even better, I was too busy to dwell on those sucky scores. Until now, that is. Maybe I'll get lucky and crash before I start to think too much about 'em.
Desert Dreams only happens every two years, but it's definitely worth the short drive from Flagstaff. I'm already making plans to save up for the next one … or I will be as soon as I come back from RWA Nationals in Anaheim this summer.