Posts Tagged 'holidays'
It's that time of year again: Time to find the perfect gift for the writer in your life.
I'm one of those writers that's easy to shop for: A nice, fat Starbucks gift card will keep me in lattes and pastries for months. Anything that enables my Starbucks habit is good enough for me.
However, some folks might want to give a gift that lasts. For those people, I present some of the goodies I wouldn't mind finding under my Christmas tree. (Note these are affiliate links, so if you decide to buy one using my link, I get a small kickback—but it doesn't cost you any extra.)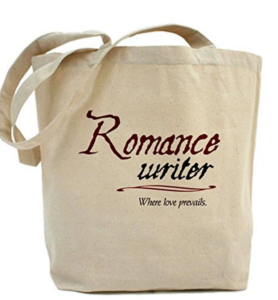 • One can never have too many tote bags, right? This one simply says "Romance Writer. Where Love Prevails." The heavyweight canvas tote measures 15-by-18-by-6 inches and boasts a 22-inch reinforced fabric handle. The product description insists it's sure to meet all your reusable shopping bag needs.
• Writers drink tons of coffee—and sometimes other beverages. Why not give them a cool new mug to drink from? My tastes tend toward sarcastic, funny or motivational mugs. A few of my favorites:
I write. What's your superpower?
This Banned Book mug, featuring the best books once thought too scandalous or subversive to read.
This mug highlighting some of the best Shakespearean insults. (It'd be the perfect gift for Will Behr, from my JUST RIGHT. He's the hero's older brother, a contractor and Shakespeare scholar.)
I'm a writer. Therefore I am not sane.
And this one: English major. YOU do the math.
Another thing writers can never have too many of? NOTEBOOKS. I'm rather fond of this one, with its cover declaring "Some of my best friends are fictional" and this one saying "my voices are telling me to write." But some might prefer one with a plain leather cover or this beauty.
• As a writer struggling to balance the day job with the writing life, this book sounds mighty appealing.
 "Writer with a Day Job: Inspiration and exercises to help you craft a writing life alongside your career" by Aine Greaney promises "advice, skill-building techniques, prompts, and exercises in every chapter, and strategies on how to get and keep writing while also working the 9 to 5 grind." It's a paperback, and sells for $12.49.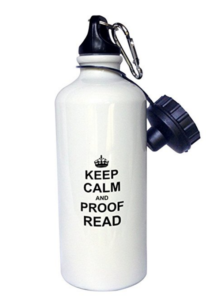 • This water bottle speaks to both my copy editor side and the (small, stunted) part of me that wants to get healthier in 2017. The Keep Calm and Proofread water bottle is made of stainless steel, holds 20 ounces and comes with two lids — one standard cap and an "easy-flow" drinking cap. Only $8.99 (+ $1.01 shipping).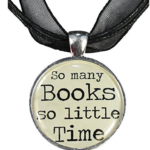 • With dozens of designs, there's likely a pendant that'll fit your favorite writer's personality. The one at left is one of my favorites. There's also Born to Write and Girls who read are dangerous.
If none of those ideas hit a home run with you, the gals at Ruby Slippered Sisterhood served up 8 handmade gifts for writers and other book lovers.
Still stumped? This list from The Write Life has 22 more awesome ideas.
Yesterday on Facebook, Katie MacAlister asked her friends/followers what they were thankful for. But she didn't want the standard answers—family, friends, health. She wanted us to share the quirky and offbeat things we're glad to have in our lives.
Some of the answers were hilarious: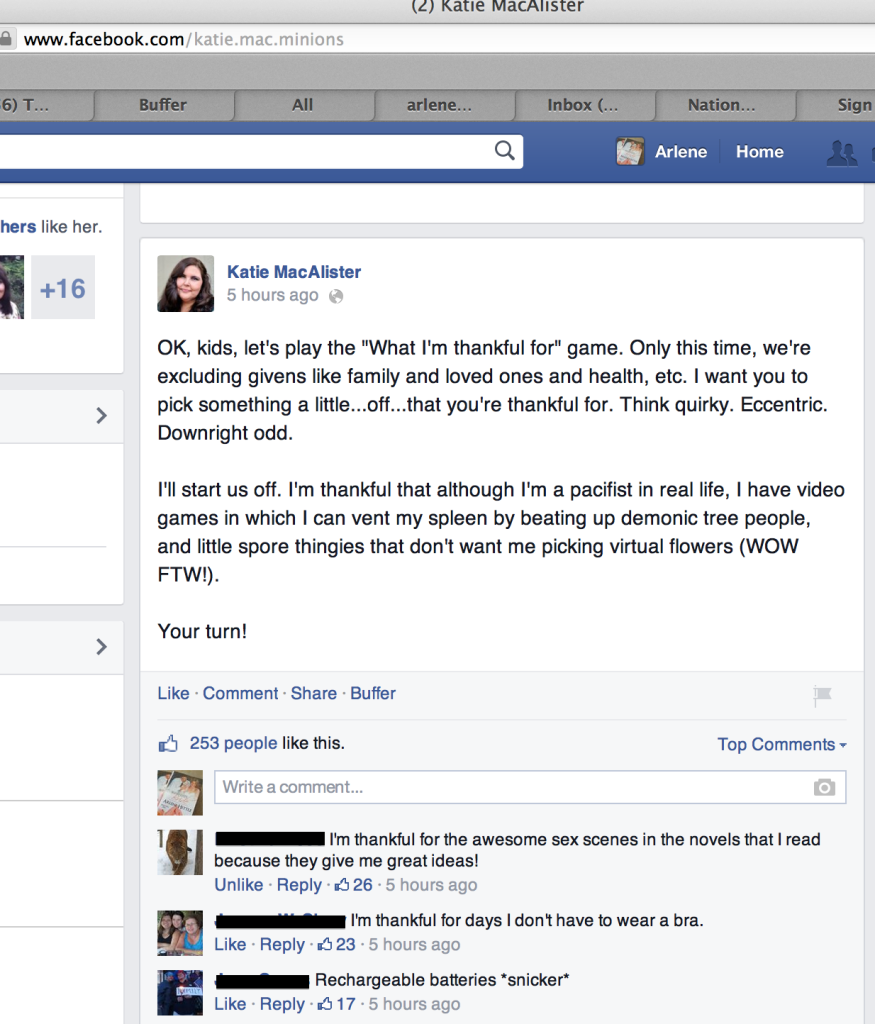 It got me thinking a couple of things:
How would I answer that question?
That would make a great blog post!
So here I am, blogging my answers. (They weren't kidding when they said you can find ideas anywhere…) In no particular order, I'm thankful for:
My Target Red Card. Sure, they got hacked, but who hasn't these days? I just dig the 5% discount on all the cat food, cat litter and Chobani yogurt I pick up at Target on a regular basis. Every cent saved is another cent I can add to the balance of my Starbucks card.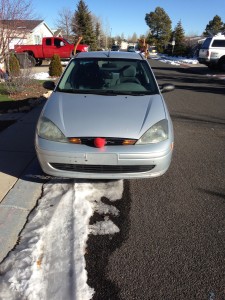 A car that runs—and lets me dress him up for Christmas. No kidding. Focus (or the Silver Streak, as I affectionately call him) is getting up there in years, but he's a great little car. He starts up even on cold days and never objects to the cheery red nose and antlers I love to make him wear during the holidays.
My Keurig machine. I got it ages ago, but was too scared/lazy to figure out how to work it. The Boyfriend got a new apartment and convinced me to let him set it up there. He quickly figured out the setup and just as quickly decided the K cups were too expensive. He sent the lovely machine back up the mountain with me—so now I can have fancy coffee drinks at home. This will save me money at Starbucks, right?
Gourmet pizza. Picazzo's has the best pizza. They make a mean Caesar salad, too. (The dressing…OMG, the garlicky goodness of the dressing… It's seriously the best salad I've ever had.)
A job. (Okay, I cheated. This is a serious one.) The work is only part-time and temporary, but even that is better than nothing. I thought I'd enjoy not having a day job—more time to promote my books, and write and edit new ones. That was only half right. Even though I did spend a lot of time writing/editing/pushing sales, I spent just as much feeling hopeless, worthless and frustrated. Seriously—I've had a regular, full-time job since graduating college in 1994. So when my old boss called me and asked me to come back for a temporary, part-time gig, I jumped at the chance. I started Monday, and it felt great to be back.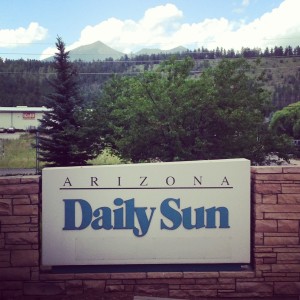 Flagstaff. So what if the weather's cold and residents are frustratingly resistant to welcoming any kind of chain stores or new housing developments? It's still a gorgeous town, and people care about one another. I do wish it had a Trader Joe's, though.
It goes without saying that I'm also thankful for family, friends and…well, my health leaves something to be desired. I need to get back on the "eat well and exercise" bandwagon.
Anybody see which direction it headed?
I know, I know. You don't need me to tell you Christmas is a mere nine days away. Countdowns are everywhere, inexorably ticking off the days, hours and minutes.
With no children of my own to make holiday magic for, I don't find the holiday season quite as hectic as some, I'm sure.
Yes, I still try to do some baking. Since I've been sidelined with a cold/flu/mysterious ick  for a week now, my Mom's butter cookies are still unbaked. I hope to get to them before this weekend, but it'll depend on when I can stand for extended periods without trying to hack up my spleen.
And kids or no, I still love watching all the holiday specials. I'm afraid I've missed "Rudolph the Red Nosed Reindeer" this year. (Pouting will commence … NOW.)
The one show I absolutely will not miss? "A Christmas Story."
In fact, this year I spent $8.50 to watch it on the big screen. I needed to take a longish dinner break, and Harkins just happened to be showing "A Christmas Story" as its "classic" Tuesday night flick. I couldn't pass it up.
The movie is a family favorite for one big reason: Although it was filmed in Ohio, it's set in Hammond, Indiana, on Cleveland Street. My grandma and grandpa Kiger lived on Cleveland Street in Hammond, Indiana. 3003 Cleveland Street, to be exact.
That's right. Young Ralphie could have been my mother's neighbor. I think he'd have been a few years older, but still … everything about the movie — tone, humor, everything — is spot-on.
I've seen it once already this season, but that won't stop me from watching it at least one more time during TBS' 24 hours of "A Christmas Story." (I'll probably catch it more than once, to be honest. Like classic episodes of "Twilight Zone," it never gets old.)
And if anyone wants to get me a present, I have just the thing:
My very own Leg Lamp! (As seen at Walgreen's.)
"Fra-gee-lay. It must be Italian."
"I think that says 'fragile.'"
I'm so tempted … But I have nowhere to put it, so I'll have to content myself with Leg Lamp butter cookies instead.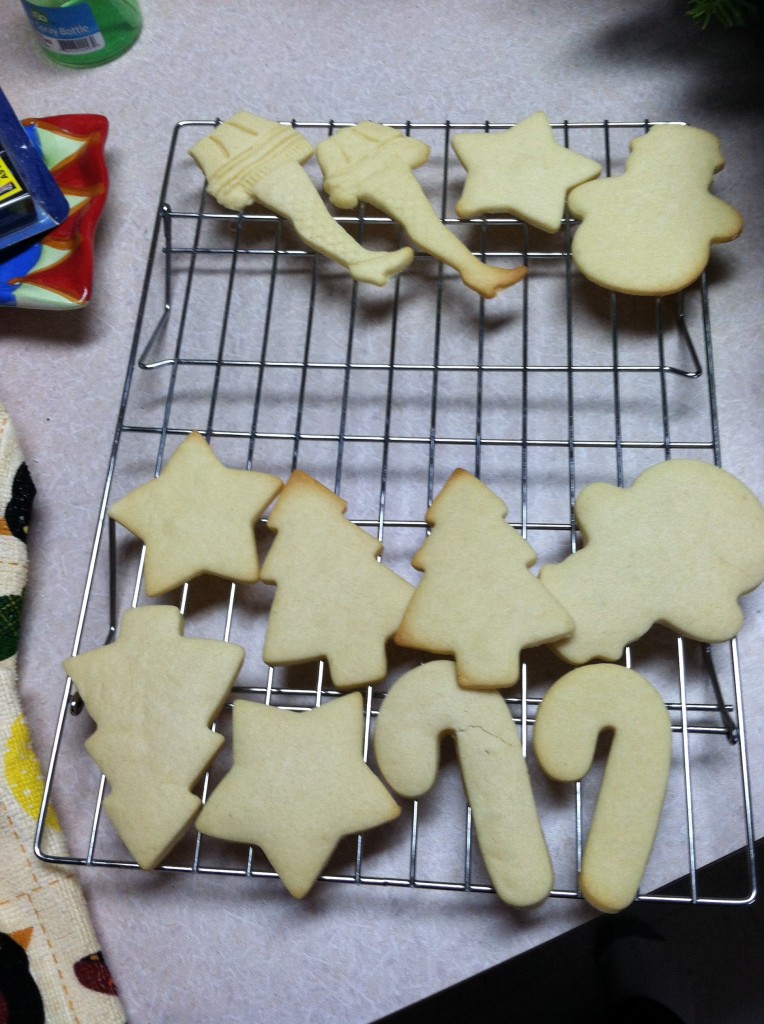 Yes. Leg Lamp butter cookies. I found the cutter last year at Target. For only $1, I HAD to buy it.
Tell me: What's your favorite, can't-miss "I'll watch it a thousand and one times and it never gets old" holiday movie?