Posts Tagged 'indie'

Dare I say this week's My Sexy Saturday theme is right up my alley?
This week's theme is A Good Ole Sexy Time and think about things like the Dukes of Hazzard or maybe Nashville or the Appalachian Mountains. This week is about…well…normal people. You know, the boys next door, the good ole boys, the boys of summer and everything in between. There is nothing more sexy than a man at the beach or getting done with his chores or doing his best at any task.
Fun—and I have just the snippet.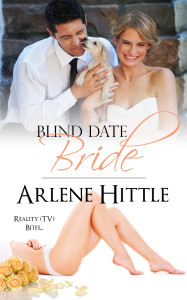 In this scene from BLIND DATE BRIDE, Kari is grappling with her new reality. She and Damien, her faux husband of less than a week, have ceded the spare room she was planning to sleep in to the camera crew that will be taping their every move for a new series they've agreed to. Thus she finds herself reluctantly sharing his bed.
Damien is about the most normal guy I've ever had the pleasure of having in my head. (His buddy Cody is a close second.) He's a veterinarian, a one-time band geek (trumpet), retired Casanova (he went a little crazy in college when he started running and playing tennis and grew into his gangly body) and armchair psychologist.
Enjoy!
***
"Stop looking at me like you're on a diet and I'm a hot fudge sundae!" she snapped at him.
Damien rolled his eyes. "You think you're that irresistible, huh?"
"Well," Kari began. More concerned with her own response to the look he was giving her, she hadn't considered how conceited the complaint would make her sound.
"Because I have news for you, sweetheart, I can resist. No problem."
She stood and sat on the edge of Damien's bed opposite him, but not before scowling at him. "You don't have to be such a jerk about it."
He glowered right back. "Why shouldn't I be? You're basically saying you don't trust me to keep my hands to myself, right?"
"Uh—"
"Because I've never had to force my attentions on an unwilling woman before, and I don't intend to start anytime soon. So until you decide you want my hands on you, you have nothing to worry about."
Find BLIND DATE BRIDE at Amazon, Barnes & Noble and Kobo, and in print at CreateSpace or Amazon.