Archive for July 2015 | Monthly archive page
I haven't hosted many blog tours, but this collection, which includes Nola Cross, one of my Starcatchers sisters, was too intriguing to pass up. I love a good story with elements of things we can't explain.
Without further ado, here are the details on Psychic Seductions:
A hot, new anthology that's sure to seduce your senses and it's on SALE for 99 cents as a special LIMITED RELEASE price.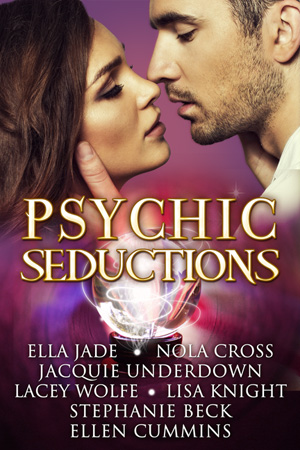 When it comes to love, sex, and seduction, these psychics break all the rules. Seven sexy stories and seven gifts of insight that will make you a believer.
Always You by Ella Jade
Aurora Mills has moved back to her hometown after a messy divorce which has left her penniless. Her friend Clara offers her a job at their family's pub, and within days Aurora runs into Clara's older brother Caleb. Aurora has always been attracted to him—there's something about him that just draws her in.
Caleb Larson has spent the past few years coming to terms with the tragic deaths of his parents and struggling with the guilt of not being able to prevent it. His gift of premonitions should have allowed him to see their future. After Aurora returns to town, whenever he's in her presence, he can sense that they have a deep connection of some type. Then he has a powerful vision from the past, and he knows there's even more to his feelings than he thought. Can these two lost souls find peace in each other's arms?
A Hint of Heaven by Nola Cross
Firefighter Jake Manley is a no-nonsense kind of guy. So when his little sister goes to see pet psychic Carrie Westfield, he lets the beautiful medium know he's got a watchful eye on her. But somehow she does seem to know more than she should, including painful secrets from his past. When the helpful spirit of his boyhood dog shows up, things get even stranger, making him question everything he thought was true. Can Jake accept that life doesn't end with death and let go of the guilt he's carried all these years? More importantly, can he let Carrie Westfield into his heart?
Cupid and Cupcakes by Jacquie Underdown
In a snowy, sleepy town is a quaint cupcake shop. People travel from miles away to visit this sugar-scented store because they think it's magical. They're not entirely wrong. But it isn't the shop, or the cupcakes it sells, that's magical…it's the owner.
Penny loves her little store, but people don't visit Cupid and Cupcakes solely for her cakes. They have an ulterior motive—they're seeking love. Penny is a matchmaker, a modern-day cupid, and she's great at it. Never wrong. Unfortunately, Penny's gift doesn't work where her own love life is concerned. That is until Jonathon reappears in her life. He's her best friend's brother, utterly wrong for her, and completely off-limits. Or is he?
Psychic Set-Up by Lacey Wolfe
During a drunken night of self-wallowing over his failed love life, Parker Evans wanders into Psychic Set-Up to see what a matchmaking psychic can do for him. But once he meets the luscious psychic he's not interested in anyone else.
Willow Webb is an aura reader who plays matchmaker for a living. While she has tremendous success matching up others, her own love life is nonexistent. Men aren't able to handle being involved with a woman who can read their every emotion. But she finds herself drawn to her handsome new client. When it comes time to match him up, will she do her job or keep him for herself?
Something in the Water by Lisa Knight
Kindergarten teacher Jill O'Halloran does her best to disregard the visions she sees in pools of still water, having learned from a young age that it wasn't something that happened to normal people. But when images of Darcy Albright in the throes of passion keep appearing, they prove too difficult to ignore. Jill can't understand why she's so drawn to Darcy. Sure he's gorgeous, but she doesn't do relationships.
When Darcy's ex-wife drops a bombshell, Jill discovers that he's all too familiar with futuristic visions. But is the prospect of learning more about the gift she's denied for so long worth the risk of falling for him?
Indigo Stars by Stephanie Beck
Indigo's ability to create light with her mind was always a fun parlor trick, but since her cancer diagnosis, the parlor has closed for business. On the brink of major health failure, she can't help but wonder when her good luck ran out.
Dr. Lee Russell believes in healing by any means necessary. He uses his psychic powers in special cases when modern medicine just can't help. Indigo's case is special. She's like him, yet she wastes her gift creating stars. He heals her, but doesn't expect much, not until he gets sick himself and only Indy's touch can ease his pain. He's never seen himself as anything more than a healer, but to save his own life, Lee will have to mentor Indigo to reach beyond the stars and use her gift in ways she never imagined.
Taming Fury by Ellen Cummins
Holly is a mind-moving Fury who electrifies all human flesh she touches. Even her own family has sent her packing. She moves things with her mind, manipulating fire with the flick of her finger, but she burns for the one thing that has never been an option for her—love.
When she catches sight of the handsome man helping her new neighbor move in she longs to take a chance and introduce herself…to pretend to be normal just once. It could easily end in disaster, but surprisingly, when she shakes his hand, no mind-blowing electrocution follows, and she begins to hope. But it turns out that her touch has affected Jacob in a way she never imagined, and it will change his life forever.
Content Warning: these stories contain sensual sex scenes
You can grab an excerpt for each story here
Psychic Seductions is available now.
Link https://www.youtube.com/watch?v=lDkCnf-tB9o
GIVEAWAY
The authors of the Psychic Seductions Anthology are giving away 2 $20 Amazon Gift Cards to celebrate the release of this spectacular collection.
Rafflecopter code
Link
http://www.rafflecopter.com/rafl/display/6c6c72bf13/?