Archive for December 2016 | Monthly archive page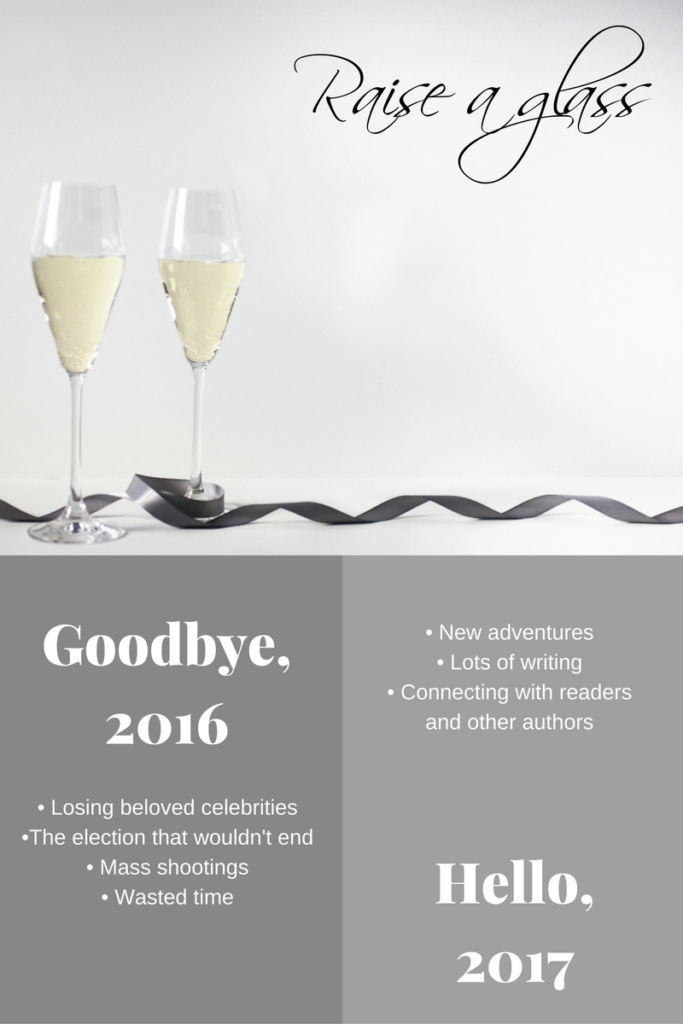 With the addition of Carrie Fisher, and her mother, Debbie Reynolds, to the list of celebrity deaths in its waning days, 2016 has thrown many of us for a loop. I can't help but wonder if this is the way it'll be from now on … more of my favorite stars, singers and authors kicking the bucket every year as I, too, get older.
It's been a pretty awful year, to be sure. Still, some good has to have come from 2016.
To remind myself of that, I took a look back at my stats for the year, conveniently compiled in Jamie Raintree's fantastic Writing & Revision Tracker spreadsheet. (Link goes to the 2017 version, which is well worth the $8.)
The great spreadsheet tells me that in 2016, I:
Wrote 36,795 words
Revised 444 pages
Is that all? Damn. Looking at those totals, 2016 HAS been a dumpster fire of mega proportions.
However, I also:
Published two category-length novels—Ogling the Outfielder and Stealing the Southpaw—and one short story—Baring It All
Discovered the Universal Book Link. (Thanks, Books2Read and Draft2Digital.)
Included Sliding into Home in a bundle with other baseball romances from Kate Curran, Jennifer Bernard, Kasey Michaels, Mindy Klasky and more. (GetThe All-Star Baseball Romance bundle on AMAZON | BARNES & NOBLE | KOBO | IBOOKS.)
Started sending monthly email newsletters (instead of sending one only when I have a new release)
Added 1K names to my email list (thanks to Ryan Zee)
Listened to countless podcasts on self-publishing, marketing and creativity.
Saw my two free short stories (Baring it All and Contempt of Love) hit 1 & 2 on Amazon's free Kindle Short Reads (12-21 pages) list. (This happened after I sent a newsletter to all my new Ryan Zee subscribers, highlighting the free shorts.)
Sold a respectable number of books. Not enough to quit the day job anytime soon, but that's okay. I continue to work toward that pie-in-the-sky goal.
I'm putting this out there now: Quitting the day job to write full-time is in my 10-year plan. I'm 45 now, so if I can get there by the time I hit 55, I'll be happy.
How about you? What are your New Year's goals? How about your 10-year plan?
Longtime readers of this or any of my other blogs (Adventures in Weight Loss, Cooking and Life, Chicklets in the Kitchen) are likely to know one thing about me: I often don't feel as if I have time to cook.
So when Michelle Weinstein of FITzee Foods reached out to ask if I'd like to sample the company's meals, it didn't take me long to say "yes."
From Michelle's email: "FITzee Foods means no more grocery shopping, cooking, or doing dishes while enjoying the most delicious and healthy freshly prepared meals you will have ever have!"
No cooking, dishes or grocery shopping? Who in their right mind would turn down that pitch?
The offer was doubly appealing because it hit my inbox in one of my "I really need to start eating more healthfully" moments. I have those feelings way too often. I clean up my diet for a day or two and then it's back to the drive-thru, where I stuff my face with moderately tasty but definitely unhealthy meals.
With a little luck, I thought FITzee meals could help me break that bad habit.
From paleo and low-carb to vegetarian and dairy-free, the company offers something for everyone:

"Healthy meals made from scratch with no subscription needed," the company's website explains. "FITzee meals are always fresh and never frozen. We make all of our food with the best, all-natural ingredients available."
I eagerly tracked my shipment, waiting for my freedom from cooking, dishes and unhealthy drive-thru food to arrive. Because I live in a house behind the main house, and my address has a 1/2 in it, the mail gets dropped at the big house. I had to make sure I knew when to walk up there and pick it up.
Lucky for me, the box was bulky but not terribly heavy. I was able to wrangle it to my place without dropping it. Inside were 14 of FITzee's small-sized meals, which contain 8 to 9.5 ounces of goodness. That might not sound like much food, but when the food is high-quality and nutrition-packed, you don't need oversized portions to be satisfied.
Surprise! I know I fall into the trap of thinking more is better—one of the many reasons I struggle with my weight. But for folks with bigger appetites, there are medium (11.5- to 15-ounce) and large (15- to 20-ounce) portions, too.
After I unpacked the box (with two each of seven different meals), I dove right in to grab a healthy lunch. It was a good way to cap off the 30-minute walk I took earlier that day.
As a Midwestern gal at heart (Indiana born and raised), I love anything that has anything to do with pulled pork. So the BBQ pork with sweet potatoes and creamed spinach was a natural first pick.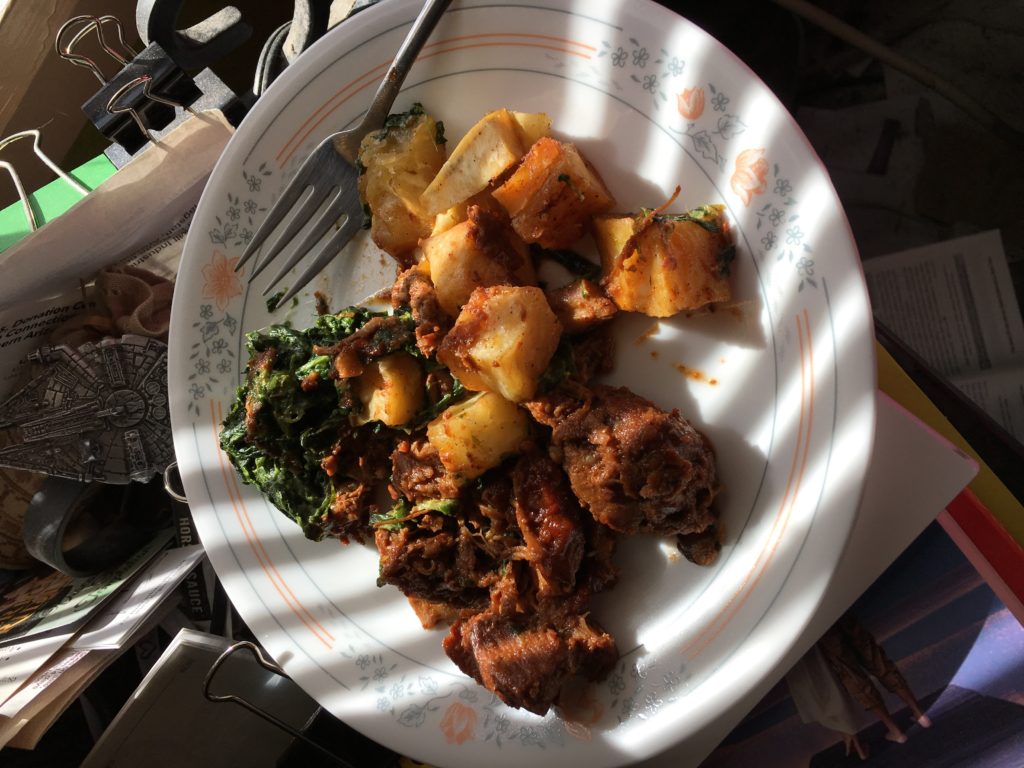 Everything—even the spinach—was delicious! And this is from someone who's not normally a huge fan of cooked spinach. I've been known to say "give me raw spinach in a salad any day." But this spinach had a good flavor—and tasted even better when eaten with a bite of potato and pork.
Don't ask me what happened to the little girl who used to eat each thing on the plate individually, saving her favorite/the best for last. (Little girl? Who am I trying to kid? I still do that—at Thanksgiving, I saved the green bean casserole and stuffing for last.)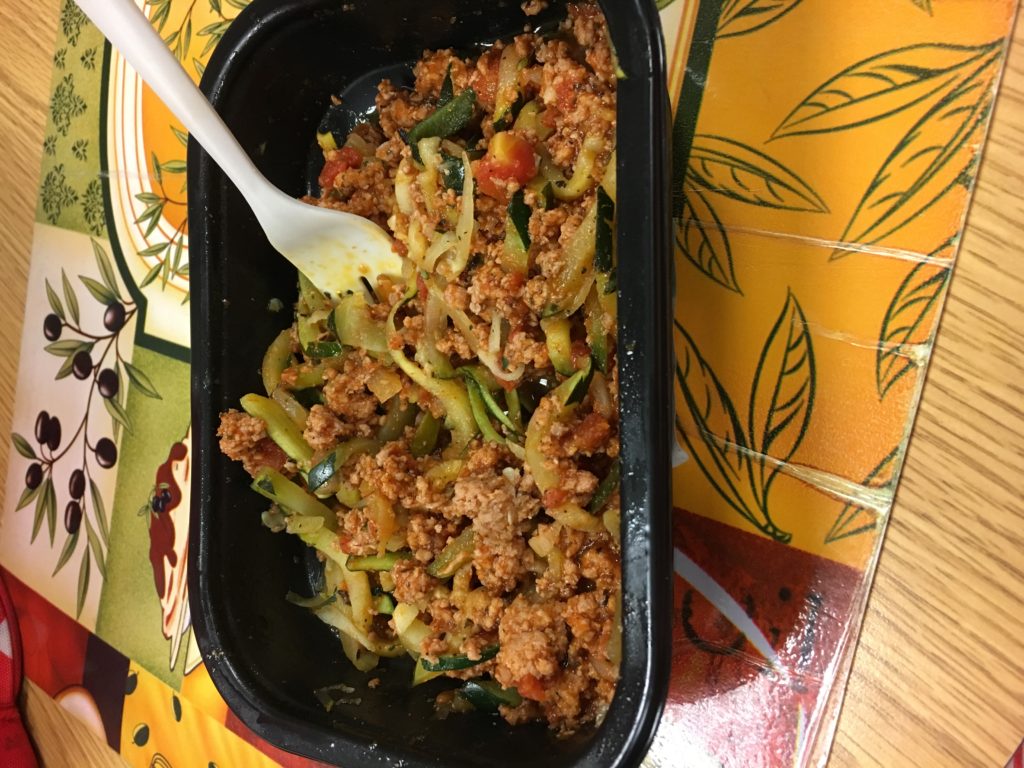 Dinner that night at work was the Paleo Spaghetti (above): zucchini noodles in house-made marinara sauce with ground turkey and fresh basil. Another home run.
I love zoodles! Sure, they're nothing like real pasta—but as someone who was on a low-carb diet for two years and is considering going back to it in the New Year, I can deal. After a few days of low-carb eating, I don't even miss the pasta, bread, potatoes and ALL the sugary sweets.
(The thought of going low-carb when I AM eating all that crap is another story, however. When I'm not low-carbing it, the prospect of giving up all those delicious carbs sounds like the worst of very bad ideas.)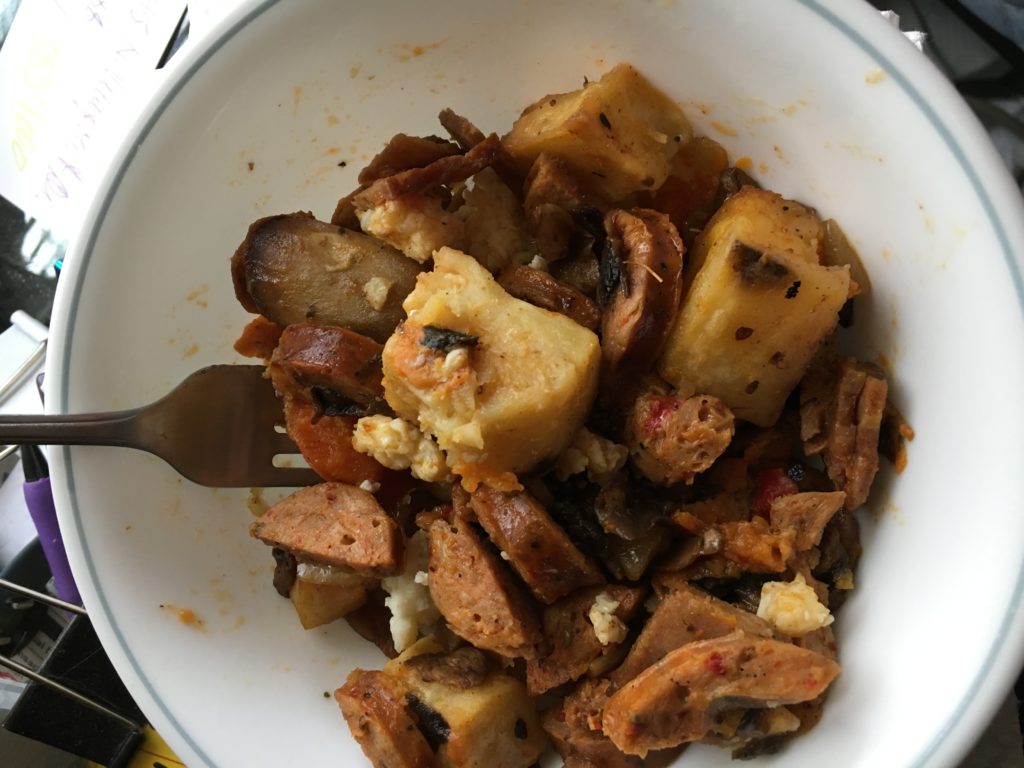 The Paleo Breakfast Hash (above) was my least favorite meal of the shipment. It sounded delicious in theory: all-natural chicken sausage, nitrate-free turkey bacon (okay, real bacon would be better), garnet and white sweet potatoes with mushrooms, local chiles, onion and garlic.
I don't know if it was the chiles or the sausage, but something about the hash made it a bit too spicy for my liking. The brochure doesn't note the dish as spicy. (But I have Midwestern taste buds, remember? I grew up eating VERY bland food. It took me years of living in Arizona to be able to handle medium salsa and moderately spicy pad thai.)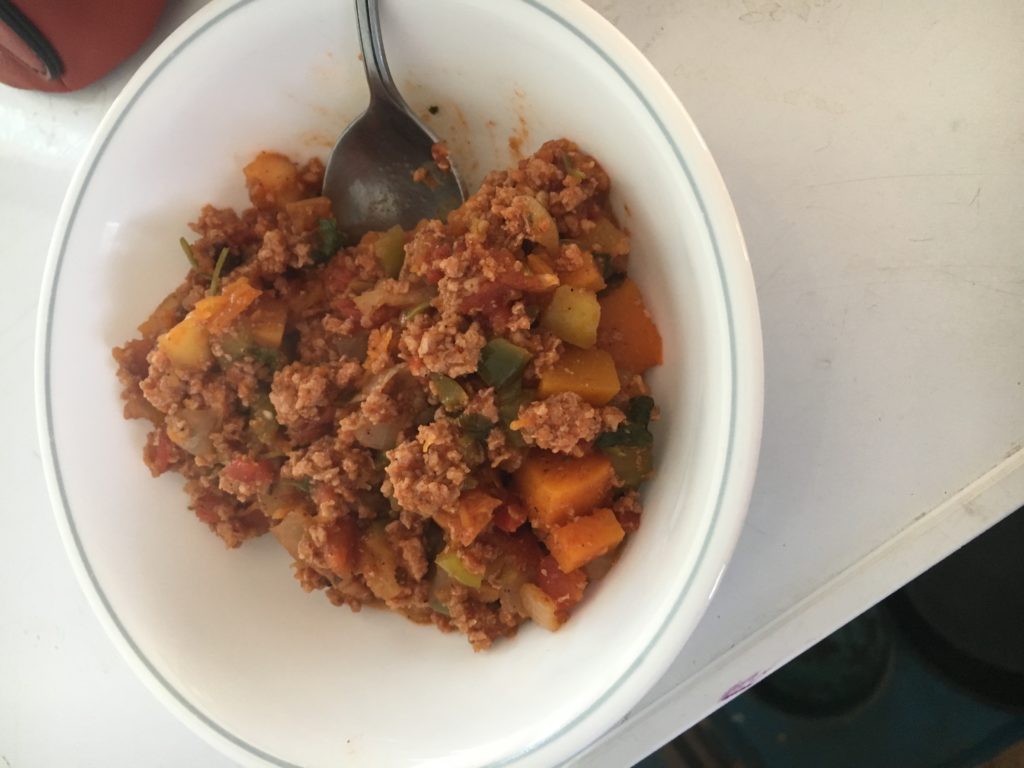 The Paleo Turkey Butternut Chili (above) might not look like much, at least when I'm taking its picture, but it was probably my favorite meal. It was on the company's list of weekly specials, rather than the "Everyday Favorites" that are available all month long. It had great flavor (not too spicy) and was very filling. Plus, I love pretty much anything that involves butternut squash (or zucchini).
For sure, FITzee meals made eating easier. There was no thinking about what to cook (or which drive-thru to hit up next). I could pull out a fresh, tasty meal, microwave it according to the directions and enjoy. I think it's Gretchen Rubin who says decision-making is hard. Using up all your decision-making power on things like what to eat makes it harder to make the BIG decisions when the time comes. So FITzee meals are an easy way to NOT have to think about food.
Another perk: There is, indeed, little cleanup required. I had to wash only the utensil I ate with and, if I was trying to be fancy, the plate or bowl I put it on.  Sometimes a gal likes to eat off real plates, not little plastic trays. Right?
The one downside: Since everything arrived fresh, not frozen, I started to panic toward the end of the week about whether I could eat everything they sent before it went bad. So I ended up popping a bunch of the meals in the freezer to enjoy at a later date. (When I get a new urge to eat healthfully would be a great time to dig them out.)
Intrigued yet?
FITzee offers a variety of meal plans and boxes that range in price from $48.51 (5 small meals in "the lunch box") to $258.35 (21 medium-sized meals in the "All in with the Big Box" package).
I have my eye on the Paleo Shepherd's Pie and Winter Vegetable Scramble. Jose's Carnitas Plate looks tasty, too, but with the word "spicy" in the description, it's no doubt way too hot for my wimpy taste buds.
It's that time of year again: Time to find the perfect gift for the writer in your life.
I'm one of those writers that's easy to shop for: A nice, fat Starbucks gift card will keep me in lattes and pastries for months. Anything that enables my Starbucks habit is good enough for me.
However, some folks might want to give a gift that lasts. For those people, I present some of the goodies I wouldn't mind finding under my Christmas tree. (Note these are affiliate links, so if you decide to buy one using my link, I get a small kickback—but it doesn't cost you any extra.)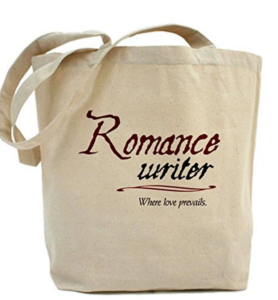 • One can never have too many tote bags, right? This one simply says "Romance Writer. Where Love Prevails." The heavyweight canvas tote measures 15-by-18-by-6 inches and boasts a 22-inch reinforced fabric handle. The product description insists it's sure to meet all your reusable shopping bag needs.
• Writers drink tons of coffee—and sometimes other beverages. Why not give them a cool new mug to drink from? My tastes tend toward sarcastic, funny or motivational mugs. A few of my favorites:
I write. What's your superpower?
This Banned Book mug, featuring the best books once thought too scandalous or subversive to read.
This mug highlighting some of the best Shakespearean insults. (It'd be the perfect gift for Will Behr, from my JUST RIGHT. He's the hero's older brother, a contractor and Shakespeare scholar.)
I'm a writer. Therefore I am not sane.
And this one: English major. YOU do the math.
Another thing writers can never have too many of? NOTEBOOKS. I'm rather fond of this one, with its cover declaring "Some of my best friends are fictional" and this one saying "my voices are telling me to write." But some might prefer one with a plain leather cover or this beauty.
• As a writer struggling to balance the day job with the writing life, this book sounds mighty appealing.
 "Writer with a Day Job: Inspiration and exercises to help you craft a writing life alongside your career" by Aine Greaney promises "advice, skill-building techniques, prompts, and exercises in every chapter, and strategies on how to get and keep writing while also working the 9 to 5 grind." It's a paperback, and sells for $12.49.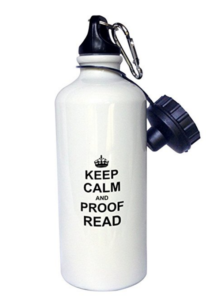 • This water bottle speaks to both my copy editor side and the (small, stunted) part of me that wants to get healthier in 2017. The Keep Calm and Proofread water bottle is made of stainless steel, holds 20 ounces and comes with two lids — one standard cap and an "easy-flow" drinking cap. Only $8.99 (+ $1.01 shipping).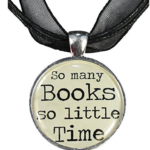 • With dozens of designs, there's likely a pendant that'll fit your favorite writer's personality. The one at left is one of my favorites. There's also Born to Write and Girls who read are dangerous.
If none of those ideas hit a home run with you, the gals at Ruby Slippered Sisterhood served up 8 handmade gifts for writers and other book lovers.
Still stumped? This list from The Write Life has 22 more awesome ideas.