If the title "Manic Monday" doesn't have you tapping your toes and humming a certain Bangles hit, you must not be my age. I remember lying on the floor in my room, listening to that song repeatedly as I tried to write down all the lyrics. Of course, in sixth grade, I didn't understand half of what I was hearing.
The song is especially apt since things have been crazy lately in the land of romance. Last Thursday was the big day: RWA announced RITA and Golden Heart finalists.
I didn't earn a nomination — you can't be nominated if you don't enter — but I was thrilled for the chance to cheer my friends'  successes. Not just one but FOUR gals from my Golden Heart class of 2011, the Starcatchers, received RITA nominations, and at least one finaled in the GH. Two friends from another writers' group I belong to, the LaLaLas, got Golden Heart nods.
Special congratulations to Starcatchers Anna Richland (His Road Home, Carina Press), Kimberly Kincaid (Pushing the Line, self-published), Tracy Brogan (The Best Medicine, Amazon Montlake) and Caitie Quinn (Worth the Fall, self-published); and to Starcatcher Arlene McFarlane (Murder, Curlers and Cream, romantic suspense) and LaLaLas Caroline Bradley (Indulge My Fantasy, a finalist in the GH's new erotic romance category) and Kristal Hollis (Howlin Hearts, paranormal GH finalist).
I recognize lots of other names on the lists, and consider some of them my friends, such as Ruby Slippered Sister Amy Liz Talley, who finaled with her Harlequin Superromance The Sweetest September.
Good luck in New York, ladies. Wish I had the time off and the cash to join you!
In an attempt to beef up my blog, I'm planning to make Manic Monday a regular feature. I envision it including updates of what's happening in my writing life — upcoming appearances, new projects, etc.
I'm also launching a Writer Wednesday feature, in which I'll introduce other writers. I figure it'll be easier to blog more regularly if I don't always talk about me, myself and I. First up is fellow Turquoise Morning Press author Jennifer Anderson on April 15.
April 15? The dreaded tax day … and I have yet to do my taxes. I see a future of long hours cuddled up with TurboTax. Ugh.
Another regular feature on the blog will be the Friday Five — a quick list post of 5 things I'm loving this week … or find interesting, or … gee, I don't know. Whatever the list is, there'll be five things on it. I also plan to keep doing the "My Sexy Saturday" blog hop a couple of times a month.
What's happening in my writing life right now?
— Turquoise Morning Press released Breaking All the Rules March 19. It's the story of a by-the-book health care administrator forced by a new state law to hire a Klingon interpreter. The only applicant for the job is a devil-may-care guy with the appetite of a 14-year-old boy and a disturbing habit of flouting every rule imaginable. Get all the details on my Novels page.
— Just Right, part of TMP's "and they lived happily ever after" set, comes out April 7. In this fairytale remaining of "Goldilocks and the Three Bears," Goldilocks is Hollywood starlet Callista Gold, who flees to an Arizona mountain town to escape when hackers leak nude photos of her to the tabloids. The three bears are construction workers named Behr, whom Callie hires to renovate the cottage she's bought, sight unseen.
It's available for preorder now — the first of my books to be on preorder, so that's exciting. Links to each bookseller are on my Novels page.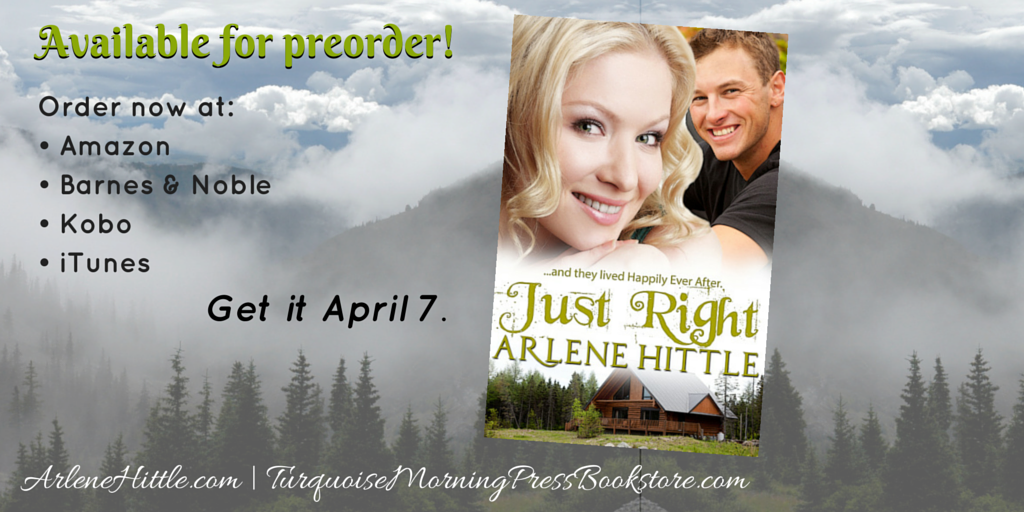 — On April 10-12, I'm taking part in the Goodreads Author Cyber Convention.

Click the banner to visit the fairgrounds. My "booth" is here: https://www.goodreads.com/topic/show/2223533-let-the-games-begin-arlene-hittle-s-contemporary-romantic-comedy.
I've promised to give away a $5 Amazon gift card to a new newsletter subscriber … so get on it. My newsletter comes out even less often than I update my blog, so you don't have to worry about it cluttering up your inbox too often.
— In July, I'll be signing books at the first-ever Payson Book Festival. The event is set for Saturday, July 25, from 9 a.m. to 4 p.m. at Gila Community College, located at 201 N. Mud Springs Road, Payson, Arizona. I'm sharing a table with my friend Susan Haught, who writes beautiful, lyrical stories. Her tagline: "Love is Ageless and has the power to change lives — one step, one touch, one kiss at a time."
The festival wants print books, so I'm limited to selling Diva in the Dugout, Blind Date Bride and Home for the Holidays.
That's it for this week.
Tags:Breaking All the Rules, Golden Heart, Goodreads Author Cyber Convention, Just Right, Payson Book Festival, RITA, Turquoise Morning Press
Popular Posts

My first guest post: Keri Ford
May 23, 2012

Writer Wednesday: Madeline Martin
May 6, 2015

The Golden phone call
March 25, 2011