Every time I think I'm going to start posting here more regularly, something happens to throw me back off track. I get busy writing…working…doing sinks full of dirty dishes. Even these My Sexy Saturday posts don't happen as regularly as I'd like.

This week's theme is "Sexy Me Up," and the way I read it, it's pretty much author's choice.
Remember, our sexiness can happen anywhere, anytime, day or night. People fall in love in many different ways. It could be on a date, at a school dance, on a hike, with the boy or girl next door, just anywhere two or sometimes more people or beings are drawn together because of that feeling called love.
Let's do this. I'm sure I can find a nice moment between Van and Allyson, the hero and heroine of BREAKING ALL THE RULES, to share.
*Returns after perusing the manuscript*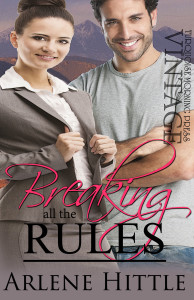 Found one! In this scene, Van has talked Ally into having dinner with him. He tries to order for her — a mistake she quickly corrects. 😀
Enjoy!
***
After the waitress left, Donovan frowned at her. Surprisingly, his frown, too, did funny things to her insides. Or maybe the culprit was the delicious margarita she sipped.
"What's wrong?" she asked.
His eyebrows drew together. "You've wanted to eat here for eight years and you order the boring chicken?"
"I never said I wanted the steak. I came for the show."
"But I brought you here for steak."
"You came for steak," she corrected before taking another small drink. The margarita was delicious—a perfect blend of salty and sweet. She'd have to be careful not to overindulge, because it'd be too easy to drink the whole thing. "I only eat red meat once a week—and it's not on Friday night."
Donovan's lips twitched into a not-quite smile. "When, exactly, do you eat red meat, Allyson?"
BREAKING ALL THE RULES will be available this month from Turquoise Morning Press. Can't wait to share all of Van and Allyson's adventures with you!