Welcome to the My Sexy Saturday blog hop. Long time no see, eh?
I've been alternately working the day job (which takes up more energy than I'd like, even though I work 5 fewer hours a week than I did in Flagstaff), hiding out in my writing cave (halfway through a new Love & Baseball short!) and preparing for the release of Turquoise Morning Press' UNFORGETTABLE HEROES II boxed set, of which BEAUTY AND THE BALLPLAYER is a part.
This week's theme is "My Sexy Boyfriend," and I'm in luck—or maybe it's you, the readers, who are in luck. Matt, BEAUTY's hero, is outstanding boyfriend material.
Oh sure, he's a tad hesitant to commit—and once he does, he battles an overbearing streak. Even with his flaws, he's an improvement over Meg's ex-boyfriend. (That one dumped her to join the professional poker circuit, before he had any idea she was pregnant. He wrote a terse goodbye note on the back of the receipt for her birth control prescription.)
Here's an excerpt that showcases the difference between Matt and the ex. Enjoy!
***
Matt didn't bother to hide his astonishment that Tim could speak more than two words at once. "She didn't send me."
"Then why are you here?"
Whoa. Five whole words this time. He'd have to work harder than that to break his last-sentence record of twelve. Matt took another moment to debate with himself before answering. "I thought you deserved to know."
"Know what?"
The guy had a right to know he was about to be a father, no matter how despicable—or illiterate—he might be. Matt took a deep breath. "Meg's pregnant."
Tim dipped his head so the hat again hid his eyes, but Matt caught a glimmer of something he didn't like before the shade fell. "Not mine."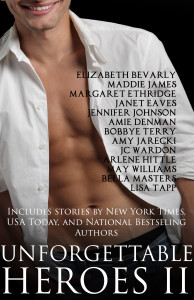 BEAUTY AND THE BALLPLAYER is available on its own for $2.99, but it's also part of Turquoise Morning Press' new Unforgettable Heroes II boxed set, which is available for preorder now and releases Aug. 25. For the bargain price of 99 cents,  13 national bestselling and award-winning authors deliver romance fiction featuring incredible, unforgettable romance heroes. This set runs the gamut from contemporary to historical romance, sweet romance to erotic, suspense to paranormal, and includes baseball players, cowboys, Celtic warriors, and more….
Find it: AMAZON | IBOOKS | BARNES & NOBLE | KOBO | SMASHWORDS