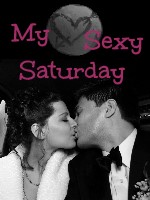 Thank goodness for My Sexy Saturday. Without its weekly posts, this blog would get none of my attention at all.
Does it matter that I'm waist-deep in the first draft of my third Love and Baseball story? It's still untitled for now, but I'm falling for Anne Marie Becker's suggestion, SLIDING INTO HOME. It works on more than one level:
The hero, Greg, who's always done all he can to distance himself from his famous father, has to make peace with dear ol' dad. He must find his way home—both figuratively and literally.
And then there's the obvious baseball analogy involving Greg and his heroine, Jenn. Will he score with her? (Would he be the hero of a sexy romance if he didn't?)
What do you think? Do I have a winner with SLIDING INTO HOME?
I just got word from Turquoise Morning Press that they've slated my next two stories, BEAUTY AND THE BALLPLAYER and the untitled masterpiece I'm currently writing madly, for March 2014 and April 2014, respectively. That's just in time for a new baseball season …
But for now, I want to focus on my October release, DIVA IN THE DUGOUT*. For this week's sexy seven, I'm returning to that deleted opening scene. After Dave and Mel had their fun, here's how the morning after plays out.
***
She tiptoed around the room, gathering up her clothes. She found her skirt on the bathroom doorknob and her shirt on the floor beside the bed. Her bra dangled from the corner of the mirror. Her panties —
Where were her panties? She didn't see them anywhere. They weren't on the floor, or the chair or even the bathroom door. Wait — there they were, tangled in the sheet at Muscles' feet. It looked like they were wrapped around his big toe.
Well, hell. She'd never get them back without disturbing his slumber.
Stifling a sigh, Mel slipped into the rest of her clothes and made her way to the door. Sans panties, she'd have to watch every step of the long walk home.
As she quietly closed the door behind her, she made a mental note to herself: Next time you're having anonymous sex with a hot stranger, be more careful where you throw your clothes.
Or wear pants.
This time, Mel didn't scoff at her conscience. Pants sounded like an excellent idea. If she ever wanted to have revenge sex with another hot, nameless stranger, she'd do it in denim.
DIVA IN THE DUGOUT, coming in October 2013 from Turquoise Morning Press.
*Scene not included in book.