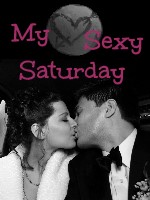 Dashing through the malls? That's so last week.
'Tis now the season for holding hands with the one you love while strolling through freshly fallen snow and cuddling (and more) in front of a blazing fire. No need to shiver in sub-zero temps when there are so many fun, creative ways to stay warm, right?
The hero and heroine in my holiday short, HOME FOR THE HOLIDAYS, have no trouble staying warm. Cue today's My Sexy Saturday snippet. Cher has just admitted to Derrick the real reason she's back in town, and asked him not to tell anyone, even their mutual friend, Elliott.
****
"Especially El. He'd tell my sister, and she'd blab it to everyone we know—not to mention every total stranger we run across. I don't want my medical history to become fodder for the gossip rags. Any rumors about Starshine's future would be bad for business."
He made a zipped-lips motion. "They don't call me The Vault for nothing."
The mention of his high school nickname brought a smile to Cher's lips. "I thought that was because your parents had more money than God."
"That, too." His teeth flashed white in the darkness. "But people tell me things. I must have a face you can trust or something."
"Or something," she echoed, her eyes glued to Derrick's supposed trustworthy face. With his killer smile and cheekbones sharp enough to slice a bagel, trust wasn't the first thing that came to mind. More like hot, sweaty nights. "What do you say we get inside before we end up with frostbite?"
Wrapping his arms around her, he nuzzled her neck. "We probably ought to wait until the rest of the family leaves, to avoid any more pleas to join in."
She pressed against him, letting his body's heat surge through her. No danger of frostbite as long as they were together. "I like the way you think."
Get HOME FOR THE HOLIDAYS now at Amazon and Barnes & Noble. Only 99 cents — less expensive (and fattening) than a fancy coffee drink.