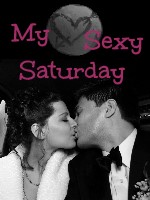 It's been a few weeks since I've joined in the My Sexy Saturday fun. A couple of weeks ago, I was so sick that there were several days the laptop stayed firmly closed. And then I was spending time with the Boyfriend and doing last-minute Christmas prep.
Not to worry. I'm back in the saddle again. (And if the phrase doesn't give you an annoying ear worm, click here for a lovely Aerosmith flashback.)
The rules are simple:
Post 7 paragraphs or 7 sentences or 7 words. The choice is yours. It can be from a WIP or something you already have published. Your post should be live by 9 am US Pacific Time on Saturday. Put those lucky 7s to work for you!
This week, I'm taking you back to Willow's Grove. The holidays aren't quite over yet, and Cher and Derrick have more to offer. And I'm cheating a bit. Since I didn't have any paragraphs last week, you get 12 this time. Don't worry: Some are short.
In this scene,  Derrick has just picked Cher up for their dinner date at DeLuca's Italian restaurant in nearby Willow's Grove. She's second-guessing the outfit she borrowed from her sister, a black mini-dress almost completely covered with a soft lavender cardigan, worried it makes her look like a reject from a Barney the Dinosaur casting call.
***
"I feel like a thrift storerefugee."
"Don't. That sweater looks better on you than your sister." With that, Derrick pulled back onto the highway and pointed the car toward Willow's Grove.
"Thanks." She cringed when her laugh came out too high-pitched. With all the adulation she got from audiences, surely she ought to be able to handle a simple compliment without getting nervous. Then again, nothing about Derrick had ever been simple. As hard as she chased him in high school, she'd only ever succeeded in pushing him farther away.
"I won't tell Carrie you said that."
With his eyes fixed on the road, he shrugged. "I don't care if you do."
When he lapsed into silence, Cheryl sank back into the passenger seat, cursing the impulse that had prompted her to say yes to his dinner invitation. If they were already out of things to say, how would they ever survive the rest of the drive to Willow's Grove? Even dinner at DeLuca's wasn't worth torturing herself with thirty minutes of strained silence.
"Cher, I—"
"Derrick—"
They began speaking at the same time. Derrick chuckled. "Ladies first."
She took a deep breath. If she put a stop to this abomination of an outing now, she could borrow Carrie's car and drive to DeLuca's for garlic bread after Derrick took her home. "I just wanted to say you don't have to feel obligated to be nice to me. I'm a big girl. My sister's fiancé's best friend and I don't have to be on speaking terms."
Derrick didn't answer right away. Instead, he pulled to the shoulder and guided the car to a stop. His smoky gray eyes were inscrutable as he studied her for several long moments.
Finally, he rumbled, "Cher, I didn't ask you out for El's sake."
HOME FOR THE HOLIDAYS, available now on Amazon and Barnes & Noble.