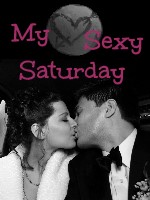 Have you heard about the My Sexy Saturday blog hop? I just did, and it sounded like so much fun I decided to jump right in.
The rules:
Post 7 paragraphs or 7 sentences or 7 words. The choice is yours. It can be from a WIP or something you already have published. Your post should be live by 9 am US Pacific Time on Saturday. Put those lucky 7s to work for you!
For my first stab at My Sexy Saturday, I thought I'd treat you to an excerpt from "Home for the Holidays," a Christmas novella set in small-town Langley, Indiana, in my former neck of the woods.
When singing sensation Cheryl Stanton finds herself back in Langley — against her will — for some much-needed R&R, she runs into old friend Derrick Mullins. Derrick was the one guy she wanted to date in high school — and the only one who was immune to her charms … or so she thought.
In this scene, Derrick, now a paramedic, has come to the scene of the accident that resulted when Cher's mother swerved to avoid a cow standing in the road. (I mentioned this was small-town Indiana, right?) His mind on business, he doesn't recognize Cher right away — a fact that peeves her to no end, even though she is in disguise.
Here's the excerpt:
His eyebrows shot skyward. "After ten years? I don't think so. A lot's changed since then."
"Well, excuse me for not peaking in high school."
A spark lit Derrick's smoldering gray eyes. "Sweetheart, you can trust me when I say I've improved with age."
That look set fire to her very soul, offsetting the chill in the crisp November air. To distract herself from the flash of desire, she lowered her lids and tapped her inner smart-aleck. "You think so, huh? You're not wine or cheese."
That was a line of crap and she knew it. Even in the watery gray early-morning light, he looked just as good now as he had in high school — better, even, if she took into account the broader shoulders and more masculine presence.
He knew it, too, judging by his sly grin. Damn the man. Why couldn't he have developed a paunch … or, better yet, started balding?
A low, sexy laugh rumbled from deep in his throat. "Wine and cheese aren't the only things that get better with age, Cher."
Coming to ebookstores near you in November 2013.
Don't forget to check out the other participants' posts.