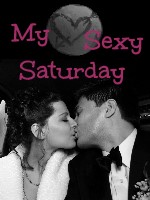 Good morning, everyone. It's Saturday, and you know what that means: Time to kick back with another round of My Sexy Saturday reads.
The rules:
Post 7 paragraphs or 7 sentences or 7 words. The choice is yours. It can be from a WIP or something you already have published. Your post should be live by 9 am US Pacific Time on Saturday. Put those lucky 7s to work for you!
To celebrate the sale of my 2011 Golden Heart-finaling manuscript, BEAUTY AND THE BALLPLAYER, to Turquoise Morning Press, here's an excerpt.
In this scene, the book's opener, Meg has just realized she's pregnant and almost lost her job. She and her still-employed co-workers have hit the local watering hole to celebrate the fact that they still have jobs. But she's feeling weak and needs to sit — and finds herself battling a sexy stranger for the only open table in the bar.
***
As Meg slid into the seat he'd so ungraciously offered, she ordered her unruly hormones to simmer down. A man was the last thing she needed tonight — or maybe ever again. "Didn't your mother ever teach you not to stare?"
"Sorry." The word was an apology, but he didn't look the least bit contrite. "I can't help staring at beautiful women. It's my biggest character flaw."
Beautiful? After the day she'd had — confirming she was pregnant, fighting off morning sickness … all day long … and dealing with a fresh round of layoffs at the foundering ad agency she worked for — even a blind man would know she looked like hell.
Despite her bad mood and his too-obvious pickup line, Meg found herself smiling at the guy. After all, it took guts to tell such a blatant lie — and it'd be nice to talk to a brave man for a change. Her ex, who'd run off to Vegas last month to try his hand at the professional poker circuit, had certainly been lacking in that department. Besides, with her friends otherwise occupied, she had nothing to do but make conversation.
After enduring his appraisal, she had no qualms about completing one of her own. She slid her gaze from the tuft of thick, chestnut hair poking through the back of his burgundy-and-white cap downward, over his golden-brown eyes, straight nose and smiling mouth. She took in his toned arms, broad chest, tree-trunk thighs and — oh my.
Perhaps he had good reason for his arrogance. Meg jerked her eyes back to his face. After they'd mentally stripped each other, it didn't feel right to not know the man's name. She extended her hand. "I'm Meg."
He eyed her outstretched hand, his lips lifting again. She grinned back as she rescinded her offer. He was right: They already knew each other too well for a mere handshake.
Beauty and the Ballplayer, coming in 2014 from Turquoise Morning Press.