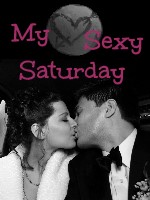 Saturday again? Now that I don't have a day job, the days are all running together.
Lucky for you—or maybe for me, I got an email reminder to sign up for My Sexy Saturday. This week's theme? Love on the road … I think.
This week, show us the characters who who love each other so much that it doesn't matter where they are, who they are, what they have or don't have. Show us that these characters are going to stick with each other through thick and thin. These are the ones who just want to be with each other, love each other and always be together, no matter how long or short the time.
I'm sharing a snippet from TROUBLE IN PARADISE, a work-in-progress. This companion to BLIND DATE BRIDE, my June indie release, tells the story of Bethany and Cody, the friends that got Kari and Damien into the winners' circle. They met the day of Kari and Damien's bogus wedding…and ended up getting more wedding night action than the bride and groom, as Kari pointed out.
TROUBLE IN PARADISE picks up where BDB leaves off. Bethany, concerned that Cody is losing interest, convinces him to audition for the network's new show, "Invitation to Sin," a "Survivor" meets "Temptation Island" reality show she thinks will test his love for her. A reluctant Cody agrees, figuring Romance TV lightning won't strike twice. But it does, and the couple flies to Bora Bora for a month to shoot the show. Little does Beth know she's the one who'll be failing all the network-manufactured tests.
Here, they're strolling on a moonlit beach, away from the cameras, as they have a heart-to-heart about the day's events.
****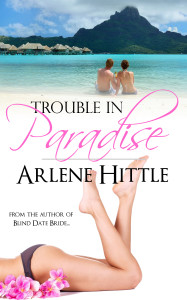 When she tipped her head up this time, he saw laughter in her eyes. "You said we're the sum of all our experiences, right?"
"I did."
Her fingers hovered over the knot at her waist. "There's an experience I've never had and I want to share it with you."
Cody's mouth went dry when she scrambled to untie her sarong. "Oh yeah? What's that?"
The cover-up pooled in the sand at her feet, quickly followed by her bikini top and bottom. She stood before him, her milky skin glowing in the moonlight. "Guess."
Cody gulped. "Skinny-dipping?"
"In the ocean under a full moon."
TROUBLE IN PARADISE … coming soon to e-bookstores everywhere.