Welcome to this week's My Sexy Saturday blog hop. The theme, "A Long, Sexy Time," is designed to spotlight love that has been around for a while:
"… It's all about those who have loved another for a long time. This love could have started when they were kids, when they were dating or even from afar."
That pretty much leaves my couples out. They tend to meet and experience love  — or hate — at first sight, and then overcome whatever obstacles are in their path to happily ever after. Dave and Melinda from DIVA IN THE DUGOUT are the closest I have to a couple who's known each other for a while … and that's only if you count a one-night stand, nearly five years ago, as knowing one another.
In this scene, Dave and Mel are trying to get along for their daughter's sake. He's just landed in Amarillo so he can meet Mel's parents — something she'd denied him years earlier by not telling him she was pregnant. Keeping Tara a secret was a decision she had what she thought were good reasons for, but is now starting to regret.
Enjoy!
***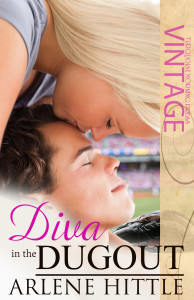 Mel bounced from foot to foot in the arrivals area of the Amarillo airport Wednesday afternoon. The steady flow of travelers slowed to a trickle before Dave strolled through the gate.
Damn, he looked fine. He walked tall and proud, his shoulders impossibly broad in a burgundy suit jacket. He carried a duffel the same color as his coat—his team colors.
When, for once, her smile didn't feel forced, Mel realized she was glad to see him. "Welcome back, Muscles."
He studied her for a moment before dropping his bag at his feet. Then he stepped up and folded her into a hug. His arms circled her waist, pressing her tightly against his flat stomach and broad chest. Her nerve endings started to sing, especially the bits of her rubbing all that hard muscle. Mmm.
"You feel even better than you look." The thought popped out of Mel's mouth before she could stop it. Her cheeks burned, and she could only hope the words were too muffled by his jacket for him to hear.
No such luck. His chest shook with laughter. "If I'd expected such a friendly greeting, I'd have come back sooner."
Mel flattened her palms against his shoulders and he let her go. What the hell had she been thinking, falling into his arms like that? Just because he was trying to build a relationship with Tara didn't mean he wanted one with her. After what she'd done, she was probably the last person he'd consider getting romantic with.
DIVA IN THE DUGOUT, the first book in my All Is Fair in Love & Baseball series, can be found at Turquoise Morning Press, Smashwords, All Romance Ebooks, Amazon, Barnes & Noble, Kobo and iTunes.
P.S  If you liked this snippet, my friend Lizzie Shane is giving away a copy of DIVA on her Facebook page this weekend. She'll draw a winner Monday morning. Click here to enter.