Most conference attendees fly to the conference city. Me? I'm not big on airplanes—and even less tolerant of airport hassle. Schlepping a suitcase between terminals? Barefoot strolls through security? Interminable layovers?
Thanks, but no thanks. When it's at all feasible, I'd rather travel by car.
A car trip from Flagstaff to San Antonio for Romance Writers of America's 2014 National Conference seemed do-able. At least that was the conclusion my NARWA chapter mates Anne Marie Becker and Alison DeLaine and I came to.
I can hear you now: Two days and 14-plus hours in the car is do-able? Are you nuts?
Quite possibly. But when you regularly drive an hour and a half just to get to RWA meetings, 14 hours in the car doesn't seem nearly as ludicrous. (Lengthy drive time is one of the—er—perks of a chapter that encompasses the northern third of Arizona.)
Believe it or not, there are advantages to taking a real road trip to and from conference.
9. Better scenery. Instead of staring at clouds and an endless expanse of blue sky (if you're lucky enough to get a window seat), you get to see giant windmills dominating the plain and farmers in their fields. Texas farmland is is just as green as Indiana's. Smells the same, too.
8. Time for side jaunts. As we drove through New Mexico on our way to Texas, we took a short detour to Billy the Kid's gravesite. Just outside of Fort Sumner, the sign beckoned us … so Anne Marie turned down the side road and drove until we reached the historical marker at the cemetery.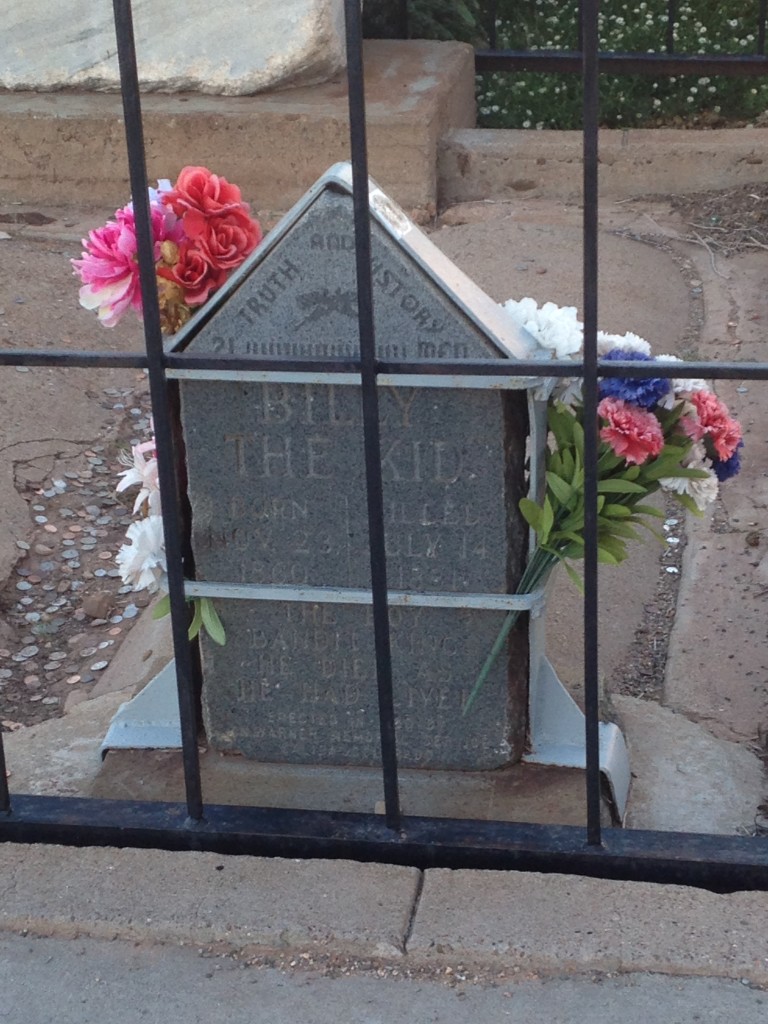 7. Cargo room. Unlike the poor suckers who flew to San Antonio who had to pay to ship stuff home, we had plenty of room to bring back swag. That I didn't come home with a ton of new reading material is because I still have unread books from Anaheim in 2012. And I only fit all my clothes in one smallish suitcase because I didn't have that many clothes to pack. Four dresses, two pairs of pants and matching shirts, sleepwear and (too many) shoes.
Note to self: Next time, don't bother with the sneakers. You won't make it to the gym anyway.
6. Crazy timetable. If you decide to make the return trip all in one day (instead of splitting it in two) because one of you (*cough, cough* ME) is scheduled to work Monday afternoon, no one will stop you. The SUV put up a bit of a protest, dishing out hot air through the air conditioner vents in the midday Texas sun. But we drove with the windows cracked for  about an hour and then, when we turned the AC back on, it was fine.
5. Excellent conversation. Sitting in the car for so many hours, you have nothing but time to work out sticky plot points, brainstorm ideas for the chapter and sing along with Apple's "Ladies of the 80s" station … at the top of your lungs, of course. Car singing is best done at full volume.
4. Plenty of diet Dr Pepper. Only in Texas, where you see billboards advertising my favorite diet soda every 30 minutes or so, can you get diet Dr. Pepper at most soda fountains. Look hard enough and you might just find an entire refrigerated case full of Dr Pepper. (This one was in Texico … N.M., I think. But it's on the border.)
3. Flexible arrival/departure times. On our way to San Antonio, we crossed two state lines—and lost an hour each time. It didn't matter much on Monday, when we went from Arizona to New Mexico. But Alison and I had dinner get-togethers planned Tuesday night. We didn't properly account for the lost hour from N.M. to Texas and had to book it through Texas to make it to dinner.
2. Ample rest stops. You never know what you'll find in those convenience store/gas stations. I considered buying this mug — until I figured Starbucks didn't sell a drink big enough to fill it.
1. It's a grand adventure. From racing a monsoon storm to Interstate 40 to touring beautiful downtown Clovis, N.M., by moonlight on the way to our mid-point hotel, you make countless memories. I think I Instagrammed more photos in that one week than in the whole month prior.
Bonus: (Mind you, this has nothing to do with the car trip, but I couldn't resist adding it anyway.)
Cowboys. 'Nuff said.